Lentils are known as a food that is easy to create many delicious and nutritious dishes. Especially when combined with smoked marlin, you will have a delicious dish with an unforgettable taste.
I have loved delicious foods that have simple recipes. Lentil soup with smoked marlin recipe is one of them. So, how to cook this dish but retain its rich taste?
You should prepare the essential ingredients and follow the lentil soup with smoked marlin recipe below. After a short time, you can thoroughly prepare nutritious dishes made from lentils and smoked marlin.
Let's continue to dig into the details!
Supplies Needed
You do not need to prepare too many ingredients to make lentil soup with smoked marlin. Scroll down to this section for details!
Cooking utensil
To prepare smoked marlin, you will need to prepare the following tools:
Classic Smoker: These devices usually have a fire divider attached and work by transferring heat indirectly. You can use an electric smoker. If you don't have a smoker, you can use a pellet grill.
Charcoal: The wood made from the fruit helps maintain the meat's original flavor.
Ingredient
The number of ingredients you prepare will depend on the serving size. Here are a few that you might consider cooking for 4-6 people:
1 cup lentil soup (green or red)
3/4 pound smoked marlin.
One tablespoon of olive oil.
Seasoning: Salt, pepper, and others
Three cloves of garlic, two ribs of celery, one onion, four potatoes, one bay leaf, one tomato, two carrots, 1/4 cup parsley
Cheese.
How To Make Smoked Marlin?
Smoked marlin is an essential ingredient for making lentil soup.
While you might consider ready-to-eat products, cooking your smoked marlin with just a few simple steps can be an enjoyable experience.
It will take you about 8-10 hours to make smoked marlin with a rich flavor. Here is my step-by-step guide to making smoked marlin. That you can refer to the following:
Step 1: Prepare the fish.
In this step, you need to complete two tasks: prepare the brine to marinate the fish and brew it for a long enough time.
Prepare brine
Marlin, after preliminary processing, needs to be incubated in brine. This is a unique recipe for smoked fish that I use often.
Water: ¾ gallon.
Salt: ¼ cup.
Apple juice: 2 cups
Soy sauce: 1 cup.
Brown sugar: ¾ cup.
Bay leaves, garlic, cloves, whole peppercorns.
After preparing all the necessary ingredients, stir the water, salt, and juice into the deep pot. Then, boil the water over medium heat until the salt and sugar dissolve. The brine can marinate the fish when the mixture cools completely.
You can change the recipe depending on your taste. But ingredients will also be proportional to the amount of fish processed. Also, I recommend favoring kosher salt over regular bacon for deliciously flavorful smoked fish.
Marlin processing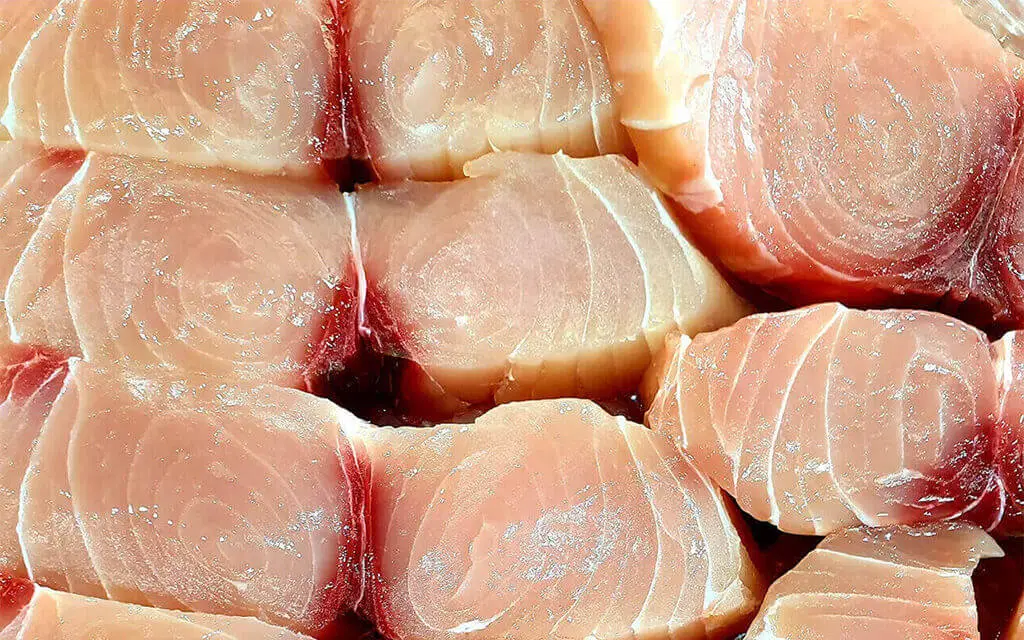 For small fish, you can smoke the whole fish. For large fish, you will have to perform preliminary processing steps such as cutting off the head and gills and cutting along the spines.
In my experience, fatty fish will absorb the smoke well, resulting in soft and moist smoked fish dishes. Therefore, although the primary processing method is more complicated, I always encourage you to choose fatty fish over lean fish.
After prepping and cleaning, you will need to cut the marlin. Each chunk will weigh about 4-5 pounds. When slicing the fish, you should keep the skin intact, and your bacon marlin should look like a grilled brisket.
Next, lay the leather face down on a flat surface and make cuts about 1/4 inch deep in the surface.
Finally, dip the marlin in the cooled brine mixture. Then put the fish in a cool, dry place for 12 hours. To ensure hygiene, you put the fish in the refrigerator.
After an hour, the surface of the fish ready to smoke will have the required stickiness and firmness.
After half a day, you can remove the fish from the bowl and rinse it under running water. Then let the fish dry naturally.
In this preprocessing step, you must also dry the fish with a paper towel. Removing the liquid will help the fish absorb the smoke better.
Step 2: Prepare the smoker.
While waiting for the fish to marinate, heat the smoker. Let the wood chips heat up in the oven for 45 minutes before smoking.
The best temperature for cooking smoked marlin is 175°F to 200°F. Before you start cooking, set the temperature to this threshold and let the cooking compartment fill with smoke.
A trick I often use is to put the meat on the perforated paper. This tip helps to spread the smoke evenly around the fish.
Step 3: Smoke your fish.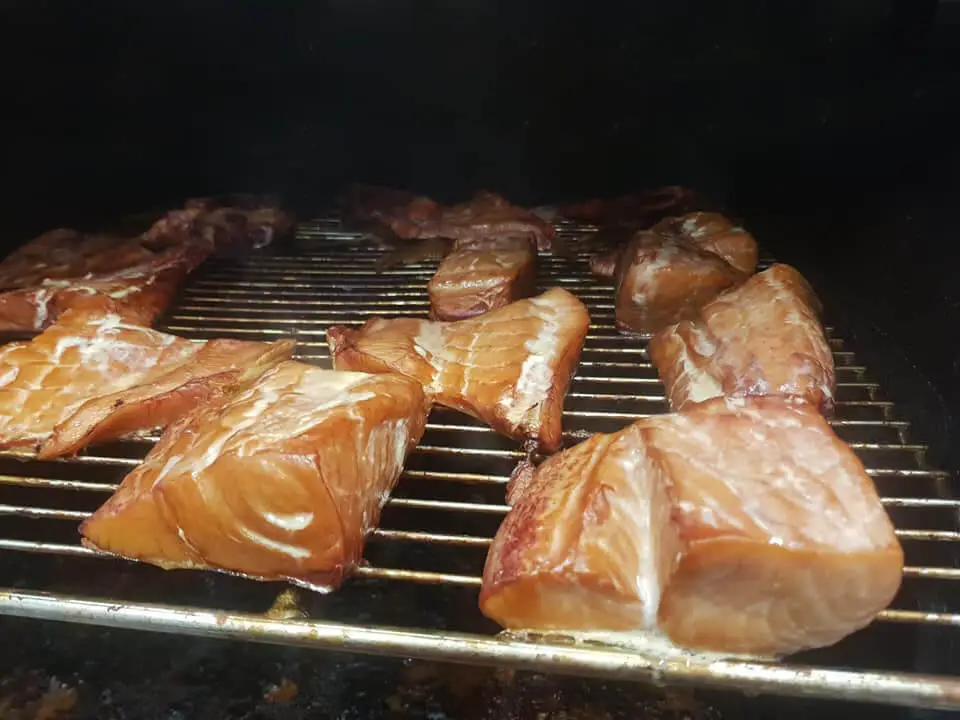 In the beginning, you should smoke the fish between 125°F – 150°F. To adjust the oven to this temperature, you must place the ecstasy strips away from the flame. Then add pepper to the jerky and use the margarine to make the fish.
After this step, you don't need to pay attention to the smoker too much. You need to ensure the fire doesn't get out of control.
When you notice an uneven amount of smoke, rotate the grill and adjust the temperature. You will have to wait 2-4 hours from the start of the smoking for the marlin's internal temperature to reach 140°F.
At this point, the smoked marlin ecstasy strip is ready. And you can enjoy the first bite of fish while the smoking process continues.
If you smoke fish and grilled steak simultaneously, the waiting time will be longer. The steak will taste good after 3-5 hours. Smoked fish dishes will need up to 8-10 hours at an internal temperature of 150°F – 160°F to reach perfection.
How To Make Lentil Soup With Smoked Marlin?
I have tested quite a few different lentil soup recipes with smoked marlin. Here are the steps I often use to make the most delicious dishes:
Preliminary preparation
In addition to smoked marlin, lentils are a must-have ingredient. Before making the bean soup, prep the ingredients you have according to the instructions.
Preparation will take about 10 minutes, depending on the ingredients you use.
Wash lentils under clean water several times. Accordingly, remove the grit and small rocks in the material and set it aside. If you have more time to prepare, you can also soak the lentils in cold water for about 1 hour.
You must finely chop and mince the celery and shallot. With carrots, peel and finely chop them. Your mixture is better to have the same ratio to cook quickly but not make the soup too mushy.
Cooking soup
Once you've completed the prep, you're ready to make your lentil soup. Cooking time will take about 25 minutes, depending on how thick the soup you expect.
Saute the Celery, Onions, Carrots, Tomatoes, and Potatoes: Heat a pan over medium to high heat and pour olive oil into the pan.
When the oil is hot, add the onion, celery, carrot, and salt to the pan and sauté for about 5 minutes.
Once everything is mixed, add the garlic and paprika to the pot for extra aroma and continue sauteing for 2 minutes.
Once the vegetables are tender and fragrant, put the lentils and clean water in the pot and maintain the flame to medium to high.
When the water boils, reduce the heat and cook the beans for 20 minutes until the beans are tender.
While the lentils are soft, you can add more water if the soup seems too thick. Then, use a spatula to skim the surface of the soup and add lemon or salt.
Step 4: Prepare the smoked marlin.
Cut the fish into small pieces and heat in a pan or oven over medium heat.
Blend well to make the soup smooth. During this process, you can also add water and seasoning. A hand blender is an excellent solution for whipping up frothy soups if you don't have a blender or food processor.
Divide vegetables and soup into bowls, and add smoked marlin to the soup. Then garnish the dish with bay leaves and enjoy.
Tips for making lentil soup with smoked marlin
Making lentil soup is quite simple. However, to have the perfect delicious dish, you should pay attention to the following:
Red lentils require less time to puree. If you love smooth soups, it will probably be the best choice.
Green and brown lentils keep their shape very well. They will make for textured soups.
If dried lentils are unavailable in some cases, you should add canned ones. But, to optimize your dish, you should reduce the water and cook the lentils in less time.
You can create new recipes by changing the vegetables. The most classic lentil soup recipe will include thyme, bay seeds, and ginger.
Plus, parsley, chives, or grated Parmesan are also ideal for making a difference but retaining the delicious flavor.
After finishing the soup, you can add lemon juice or fruit. A little seasoning change is enough to make the soup more special.
Lentil soup is best when served hot. Yet, you can keep this dish in the refrigerator for four days or freeze it to preserve it for many months.
You can enjoy soup with bread and salad. It is nutritious enough to serve a light dinner.
Lentil Soup With Smoked Marlin Recipe
Here's a recipe for lentil soup with smoked marlin. Even if you are the busiest person, you can apply the following tips to have nutritious and delicious dishes.
Time
Preparation: 10 minutes
Processing: 25 minutes
Total: 35 minutes
Ingredients
Lentils: 1 cup
Smoked Marlin: 3/4 pound
Olive oil: 1 tbsp
Garlic: 3 cloves
Celery: 2 ribs
Onion: 1 bulb
Potatoes: 4 tubers
Tomatoes: 1 fruit
Carrots: 2 bulbs
Parsley: ½ cup
Bay leaf: 1 leaf
Seasoning: salt, pepper, cheese
Instructions
Wash all ingredients, chop carrots, celery, red onions, and minced garlic
Cook vegetables for 5 minutes over medium to high heat. Add garlic and paprika and continue sauteing for 2 minutes
Add lentils and clean water and pot. Cook beans for 20 minutes under medium heat
When the beans are soft, season them with more spices and water
While the beans are tender, cut the smoked marlin and heat in a saucepan over medium heat
Pour the soup into a blender and puree until frothy
Add smoked marlin to soups, garnish and enjoy
Nutrition Facts
Servings: 6 people
Calories: 360
Total fat: 4g
Cholesterol: 13mg
Sodium 963mg
Total Carbohydrate 57g
Protein 25g
Vitamin C 10mg
Calcium 75mg
Iron 5mg
Potassium 956mg
FAQs
Besides the ingredients to prepare and the processing process, there are many things you need to consider to have a delicious and nutritious smoked marlin lentil soup. Here are the answers to most of concerning questions:
Do lentils need to be soaked before making soup?
You don't have to soak lentils as some other beans do for a long time. All you need to do is sort the beans and wash them before cooking.
The cooking time for each type of lentil will vary. You won't have to wait too long with red lentils for a smooth soup.
Do you boil water before putting lentils in?
You must boil the water before putting the lentils in the pot. You will then need to keep burning the water until the lentils are tender.
Can you cook lentils too long?
It would help if you did not cook lentils for too long. The mushy beans will significantly reduce the soup flavor. Therefore, keep an eye on your soup pot to avoid overcooking the beans and making the soup mushy.
Do dried lentils expire?
Dried lentils can be stored for many years. However, its quality is only best in 2-3 years if stored in a cool and dry place. Most dried lentils stored for more than five years no longer retain their valuable vitamin content.
Do lentils burn belly fat?
The answer is yes. It contains a lot of carbohydrates and nutritional fiber to burn your belly fat faster. Soluble fibers can effectively reduce food absorption and reduce fat accumulation.
Conclusion
Lentils are well known for their iron, vitamins, and anti-cancer agents. So, lentil soup with smoked marlin recipe is one of the special healthy dishes with a unique taste.
Hopefully, through the detailed instructions above, you have grasped the secret to making delicious dishes from this nutritious bean.
I hope that you succeed in applying the recipe and getting sumptuous delicacies from smoked lentils and marlin.
If you want to discuss more, don't forget to comment in the section below to receive a quick response from us.
Thank you for reading!