King Crabs, red King Crabs, or Alaska crabs, are one of the most popular harvested crustaceans for meat.
Since it contains little fat and a lot of protein, crab meat is an excellent option for a healthy diet.
If you have never eaten this seafood before, you may wonder about the edible parts of King Crab.
Let's dive into this article to address your question and learn some helpful tips for cleaning and picking the meat!
Common Types Of King Crab
These crustacean species come in various varieties. Here are the most common types of King Crab you often see.
Red King Crab
Red King Crab is the most sought-after and expensive species. These red King Crabs are native to Norton Sound and Bristol Bay.
Blue King Crab
These crustaceans live near the Pribilof Islands and St. Matthew Island. They are outstanding with their brown royal blue color.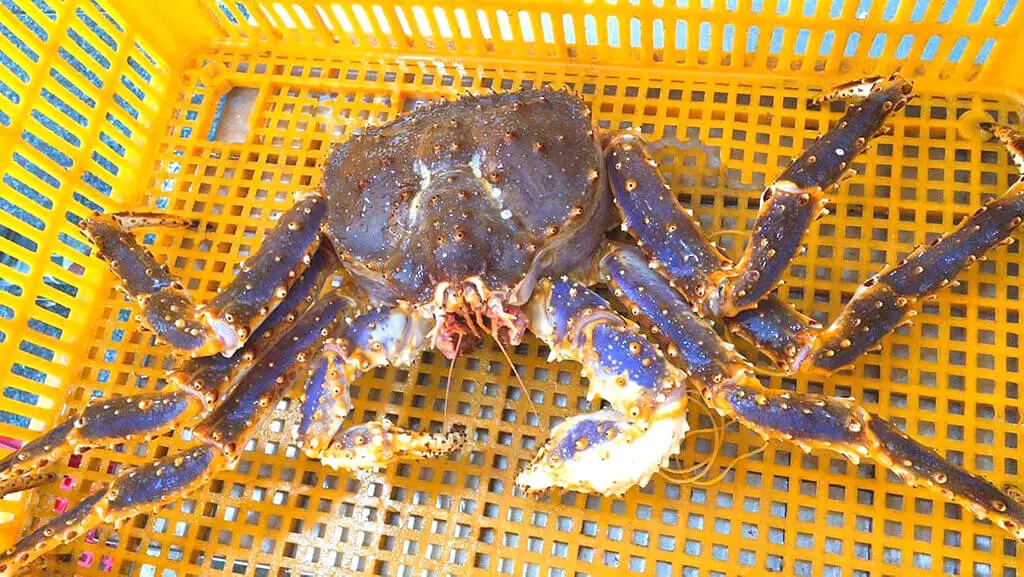 Golden King Crab
Gold-orange crabs are abundant but don't have much meat like the two above, making the price lower.
Norway King Crab
These crustaceans have a spherical, spike-covered shell that is orange or brown and reaches a maximum length of around 5.5 inches.
Scarlet King Crab
These creatures are small and limited in number, so people don't usually hunt them for meat.
Southern King Crab
These crabs are common in Chile and Argentina. They can reach a size of 7 inches.
Puget Sound King Crab
This protected variety can be red, purple, or orange and reach a maximum size of 10 inches.
Brown Box Crab
This type is native to the west Northern coast, San Diego, or Alaska. These creatures can grow around 6 inches.
Edible Parts Of King Crab
King Crabs are the sought-after seafood to be caught for their succulent flesh.
However, not all parts of these crustaceans are edible. Thus, make sure you only eat these things to avoid unwanted issues!
Claws
A crab's defensive mechanism causes its claws to fall off. So, when you steam these crustaceans, they will amputate their claws to fight for life.
The crustaceans use this action to avoid predators in nature. Claws are tastier and easier to handle than other parts.
A large amount of delicious, juicy flesh is revealed when you break apart the claws.
Legs
These crab's legs attach to its shell with claws. After splitting it into two parts, remove the blackfin and mustard, and rip the remaining pieces off to serve.
The ends of the legs often have a chunk of flesh sticking to them when you take them out of their shell.
If the leg's end has no meat, crack up the shell and get the flesh that way. It's relatively challenging to pick the meat from this part, but you will love its flavor.
Back Fins
The crustacean backfin is tasty. Cut it in half to reveal the backfin. With your fingertips, reach inside and remove the flesh from the backfin.
When you press on the shell region at the backfin, the flesh squeezes out from the shell. Clear the backfin flesh of any shell fragments that may be present.
Mustard
Mustard, also called green gland or tomalley, serves as the pancreas and liver in the digestive system of these crustaceans lined with tubes.
This body part filters the blood impurities. Thus, while it is edible, its taste is pungent and bitter.
For this reason, some people love eating this part, but others want to throw it away. It depends on your preference.
How To Clean And Pick The Best Meat From King Crab?
Cleaning and picking the edible parts of King crab seem not complicated, but not everyone can perform the proper technique to get all the flesh.
If it's your first time enjoying this seafood, here are some helpful tips you can follow!
Preparations
Before picking the meat, ensure you prepare these things in hand:
Bowls
Nutcrackers
Paper towels
Step-By-Step Instructions
Step 1: Remove the legs and claws
Grab the base of the leg and pull it away. Set these things aside to use later.
Step 2: Peel the plate
Turn the crab over, and you will see the plate at the bottom. Peel it off by slipping your fingers under its plate. Grab it and pull it away.
Step 3: Open the body
Place two thumbs on the opposite side of the crustacean body and pull the carapace away from the bottom.
Step 3: Remove the lung
These lungs are feathery cones streaking the sides of the crab's body. Remove them and throw them away.
Some people suppose this part is toxic, but it is not digestible and terrible tasting.
The crab's body has two equal pieces; scrape off the sticky substance in the middle.
The greenish thing is the mustard. You can throw away or eat this part. You may find orange stuff under the plate if the crustacean is female. These edible eggs, and you can serve them on toast.
Step 4: Pick the meat
The cartilage-lined tubes in the two body sides may contain meat. Break down the body into two parts to get it.
Extract the flesh from the claws, legs, and knuckles using a nutcracker. Do with enough pressure to avoid mashing the meat.
FAQs
Is The Body Of King Crab Edible?
Yes! However, this flesh is flakier than the meat of the legs.
What Part Of A Crab Can You Not Eat?
It's the lungs because they have an unpleasant smell and bitter taste.
Why Can't You Eat The Gills Of A Crab?
While they aren't toxic, their taste is not pleasant. Also, they don't have meat inside.
Can You Eat Crab Brain?
Yes! You can cook crab brains or eat them raw. They may be slightly bitter but creamy and sweet later.
You can watch this video to have more recipes for this body part of these crustaceans:
What Happens If You Eat Crab Shell?
The short answer is yes if it's a soft shell. You should avoid the hard one because it may get stuck in your throat, and sharp edges may cause problems.
The Bottom Line
Edible parts of King Crab include claws, legs, back fins, and mustard. The flesh of these crustaceans is juicy, rich, and sweet, making it the best seafood.
Moreover, ensure you clean these creatures properly and apply the proper technique to get all the meat. Hopefully, this post will be helpful for you.
Thanks for reading!