Turn on the oven, and you will have a delicious snack for a busy day. But what if you don't have such an appliance? How to make garlic bread without an oven?
Luckily, you can use some alternatives for your cooking job, such as a pan, without ruining the flavor of this famous cuisine.
We will give you step-by-step guides on making garlic bread from market-ready bread with a pan. Let's scroll down and try our easy-to-follow recipe!
Preparation Tips
Making garlic bread is a simple task. You can prepare your dish within a few minutes. Also, the ingredients are easy to find and always available at your home.
This recipe needs the following ingredients:
French bread
Garlic
Parmesan cheese
Parsley
Salt
Butter
French bread
Market-ready French bread is a common food in almost any household. But because of the large size, you may not finish it at once. It is a good idea to save it for another recipe, like garlic bread.
Since the store-bought bread is edible, you don't need to do much with it. To prepare, simply cut it into smaller pieces.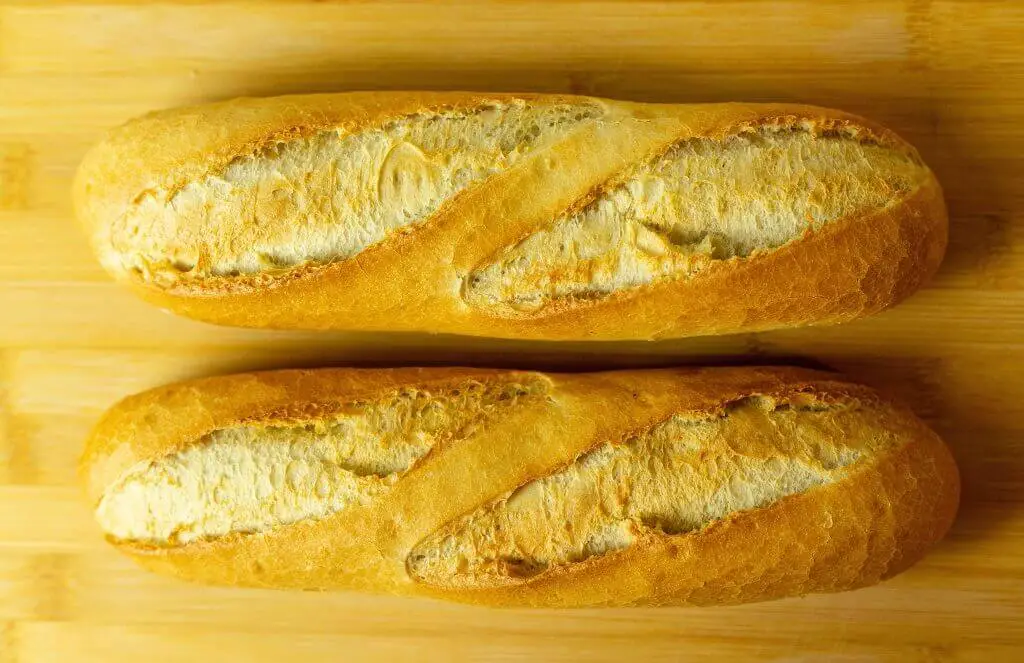 Garlic
We need about four garlic cloves and grate them. The garlic acts as a seasoning, enhancing the flavor of your bread.
Parmesan cheese
Cheese is an optional ingredient. Yet, we recommend adding it to the recipe as it will maximize your food's final flavor and taste.
If you love cheese, go for the Parmesan. Also, choose the shredded one so it can spread on the bread nicely.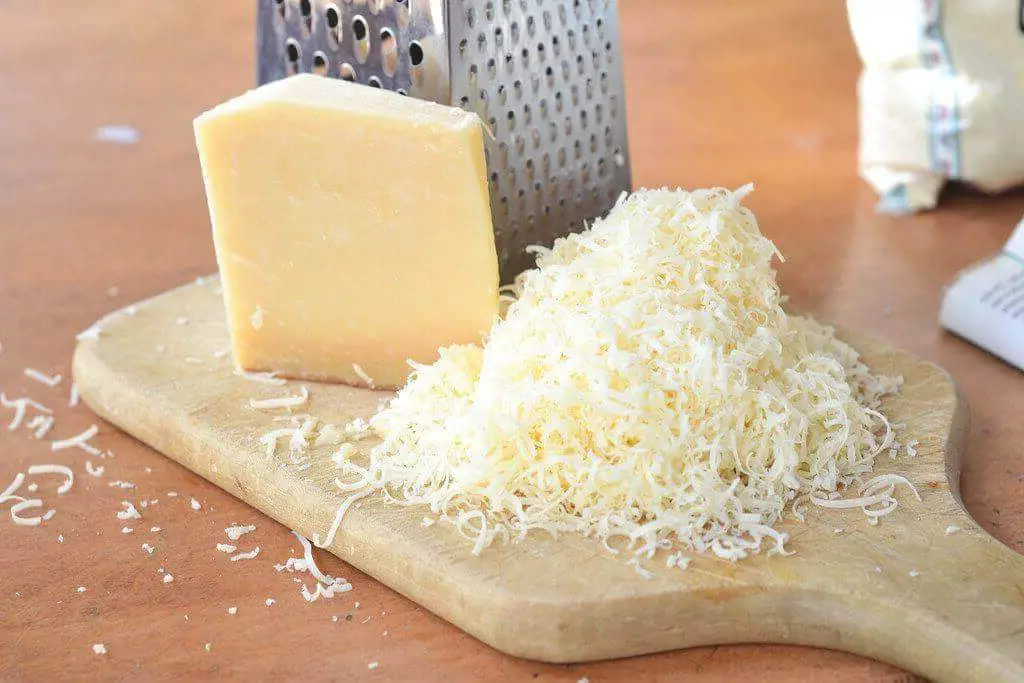 Parsley
This herb is an indispensable ingredient for making garlic bread. You need to chop it before adding it to the spread mixture.
Butter
It would be best to use salted butter for the recipe. The salt concentration is generally between 1.5% and 2%, depending on the brand.
Thanks to the salt content, butter can last longer and have a wonderful flavor, enriching the taste of your garlic bread.
It's fine to use regular butter. Yet, you need to add the right amount of salt for the spread mixture.
Make Garlic Bread In Pan
Using a pan is the easiest and most practical method for making garlic bread without an oven. The pan can retain very well so the heat can spread evenly.
As a result, you will have uniformly-toasted bread on the pan. The outcome must be delicious.
Here is a step-by-step tutorial on how to make delicious garlic bread using a pan. We also share some tricks for an ideal result while presenting the steps. Make sure to check all of them.
Step 1: Cut Your Loaf Of Bread Into Slices
Start by cutting your bread into thick slices that can be cooked in the pan. A serrated knife will help you cut the bread easier.
A steak knife can also do the trick. Make sure that the knife you use is big enough to fit the size of your bread.
Try to do it gently to avoid ruining the form of your bread slices, which should be thick and the same size.
Step 2: Grate Your Garlic Cloves
Pick up four garlic cloves and grate them so you can use them in your butter and garlic mixture.
After that, chop the parsley into usable pieces. Remember to cut the parsley leaves for the best result.
You can substitute parsley with other chopped fresh herbs, including tarragon, oregano, or thyme.
A mixture of any of those herbs can work. Dried Italian herbs or oregano will be terrific alternatives if you don't have fresh herbs.
After gathering necessary ingredients, it's time to work with the soul of this garlic bread recipe: the spread. This mixture calls for salted butter, grated Parmesan cheese, garlic, and parsley.
The proportion of each ingredient is essential since the dish should have a buttery, cheesy, garlicky, and slightly salty flavor. Italian parsley, for example, gives the mixture color and an earthy flavor.
It depends on your personal preference to adjust the amount of the ingredient. Try several times, and you will find the best recipe for your taste.
If you use salted butter for the recipe, you won't need to use salt for your dish. But if you use substitute butter, add a little salt, so your dish tastes right.
Do not go overboard to keep the recipe right. That's why we recommend using salted butter for your garlic bread.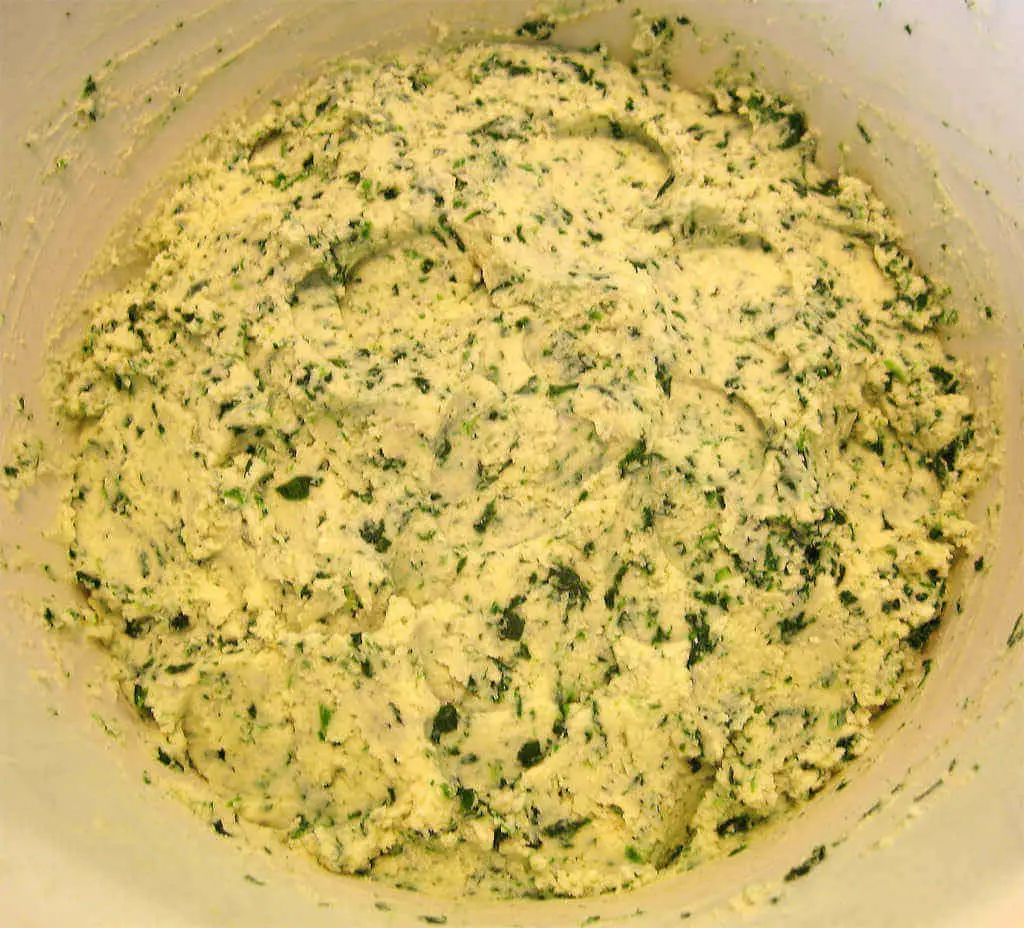 Step 3: Heat Your Pan
Preheat the pan to start the main cooking process. The pan should be warm enough for evenly-cooked food. Remember to set it on low heat, so you don't run the risk of burning your well-prepared bread.
Step 4: Dip Your Bread
Dip the bread slices in the spread mixture well and set them aside for later. Be gentle with the bread during this stage.
You can also carefully pull the pieces apart with a butter knife to sandwich the butter between the pieces.
If desired, sprinkle some more fresh parsley, brush the bread with melted butter, or top it with more shredded cheese.
Garlic bread is easy to make because it allows you to add your favorite ingredients as long as they work well together.
This step aims to distribute the mixture evenly on your bread. It takes time, but you can do it easily. Once you have dipped all the bread slices well enough, move to the last step.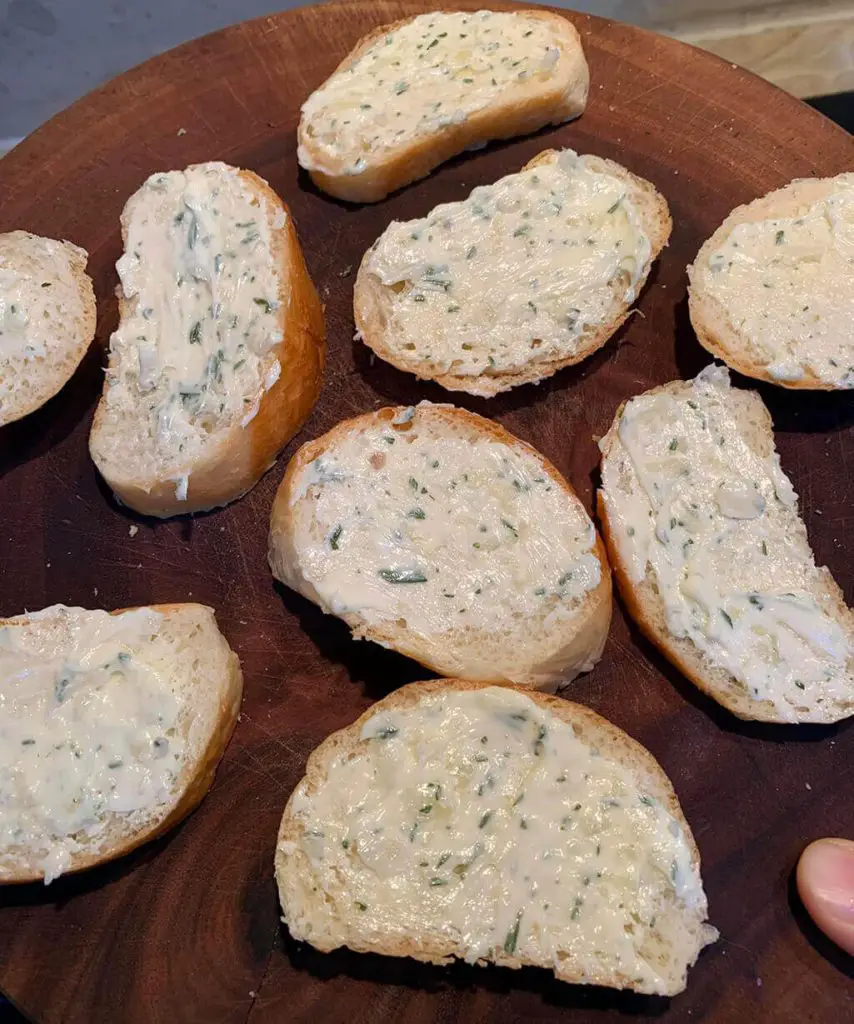 Step 5: Cook Your Bread
The pan is now warm enough to cook your bread. You can add some butter to the pan. Once melted, the butter can help you roast your bread easily without leaving any particles sticking to the bottom.
Place the dipped bread slices on the pan with the spread side facing down.
It takes one to two minutes for the bread to cook. Depending on the heat source you use, the cooking time can be more or less.
Roast your bread until the slices turn light golden and the edges are slightly toasted. You can cook your food for a few more minutes if you like a crisper toasted texture.
Do not cook for too long; otherwise, your dish will burn. Also, only place one or two bread slices on the pan at the same time so that you can check each of them carefully and avoid burning your dish.
Before putting new slices in the pan, wipe your pan clean. If you skip this step, the bits of the previous bread slices remain there and burn.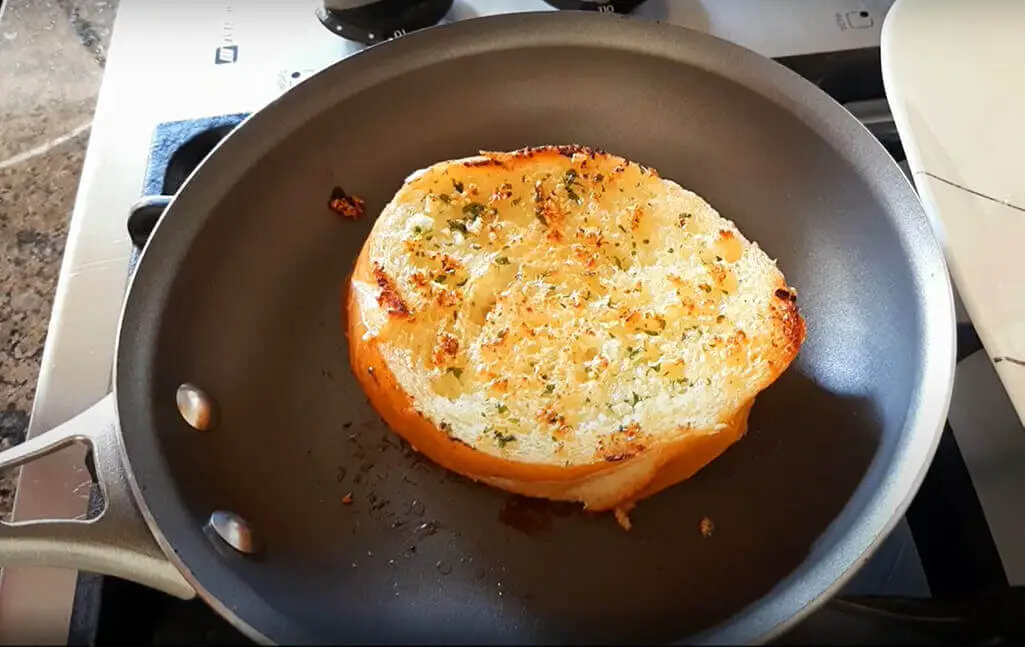 Garlic Bread Recipe
The whole process of making garlic bread using a pan is straightforward. You can achieve an ideal result with a perfect spread mixture and a little care at the cooking step.
In this table, we will summarize the ingredients and instructions for making garlic bread using a pan.
Please note that you can adjust the ingredients a little bit to suit your taste. Yet, if this is your first time trying this dish, it will be best to stick to our guide.
Cuisine
Italian
Course
Snack
Servings
4
Difficulty Level
Easy
Time
– Preparation: 5 minutes
– Cook: 10 minutes
– Total: 15 minutes
Ingredients
– 1 loaf of French bread (cut into 8 to 10 pieces)
– 5 tablespoons butter
– 4 garlic cloves
– 2 tablespoons Parmesan cheese
– 1 tablespoon Italian parsley
– 1 pinch salt
Instructions
– Cut the bread into even slices.
– Grate garlic and chop Italian parsley.
– Make the spread with grated garlic, chopped parsley, grated Parmesan cheese, and butter.
– Preheat the pan.
– Dip the bread slices in the spread mixture or use a butter knife to spread it.
– Place the bread slices on the pan with the butter side facing down.
– Wait for the bread to cook for one to two minutes.
– Your dish is ready to serve.
Nutrition Facts (per serving)
– Calories: 145
– Total fat: 14g
– Cholesterol: 39mg
– Sodium: 184mg
– Carbohydrates: 2g
– Sugar: 0g
– Protein: 1g
Extra Tips On How To Make Garlic Bread Without An Oven
The recipe we have shared is already excellent and worth trying. Yet, some extra tips will help yield an impressive outcome. Although they are optional, we suggest trying them to bring out the best of your dish.
Grate fresh
Instead of getting pre-shredded cheese in a package from the grocery store, try grating fresh cheese directly from a block. Stick to this idea whether you use mozzarella, Parmesan, or other types of cheese.
Pre-shredded cheese often contains anti-caking agents. Hence, it won't stick together and impact the cheese's melting ability and time.
Mix up herbs
These herbs go well with the other ingredients in your garlic bread recipe: basil, rosemary, parsley, thyme, and oregano, whether fresh or dried.
Make it mini
The slices of bread shouldn't be too big. It will take more time to cook and have a higher risk of burning. Moreover, once the pieces are too thick, they can't absorb the seasoning properly.
The slices must fit the pan you are using. That's why we advise cutting your loaf of bread into small chunks. Then, you can dip them into the spread easily.
Add garlic powder
You are free to substitute garlic powder if you don't have fresh garlic. One garlic clove is roughly equal to 1/2 teaspoon of garlic powder.
Using garlic powder has several benefits. It has a unique aroma that you can't find in raw, fresh garlic.
Moreover, garlic powder can last longer. You can also prepare it quickly because the powder is always ready to use.
Meanwhile, the garlic cloves require some preparation steps, such as grating, before joining your food.
Frequently Asked Questions
1. Can you make garlic bread in the microwave?
The answer is Yes. You can prepare your bread in no more than one minute.
Besides, since you cook in less time and use less energy, cooking your garlic bread in a microwave will be a cheaper method than using an oven.
This video will show you how to prepare garlic bread using a microwave.
2. Can you cook garlic bread in an air fryer?
Yes. Start by cutting the bread into small pieces to fit in the air fryer basket.
Then, cook the slices until they turn brown and crispy. After five to seven minutes, you can serve your dish.
3. What to eat with this recipe?
This dish serves wonderfully as an appetizer. It complements soups, salads, and main dishes too. Your garlic bread tastes perfect when you sop it up in the sauce.
Enjoy
Now your snack is ready to serve. This appetizer can go well with many dishes, so feel free to experiment with your own menu.
Hopefully, you will find this guide helpful. If you want to try other recipes, please comment in the section. We will cover them in the next posts.
Thank you for reading!