What do you do with the leftover rice? Do not discard it when you then turn it into an excellent treat. Our crispy rice with crab mayo recipe makes it happen.
Today, we will show you step-by-step instructions for making this super-easy appetizer. Let's scroll down, take some notes, and have a happy cooking time!
What Is Crispy Rice?
Crispy rice refers to the tiny rice cake you make from leftover or fresh rice. It can be plain rice, and your snack will taste much better if you use sushi rice for the recipe.
Making crispy rice is quick. You just need to press the cooked rice and refrigerate it overnight. On the next day, fry them until they turn golden and crisp outside while the interior is tender.
Another interesting thing about this snack is you can eat them plain or top them with any of your favorite toppings. The option we introduce right here is crab mayo.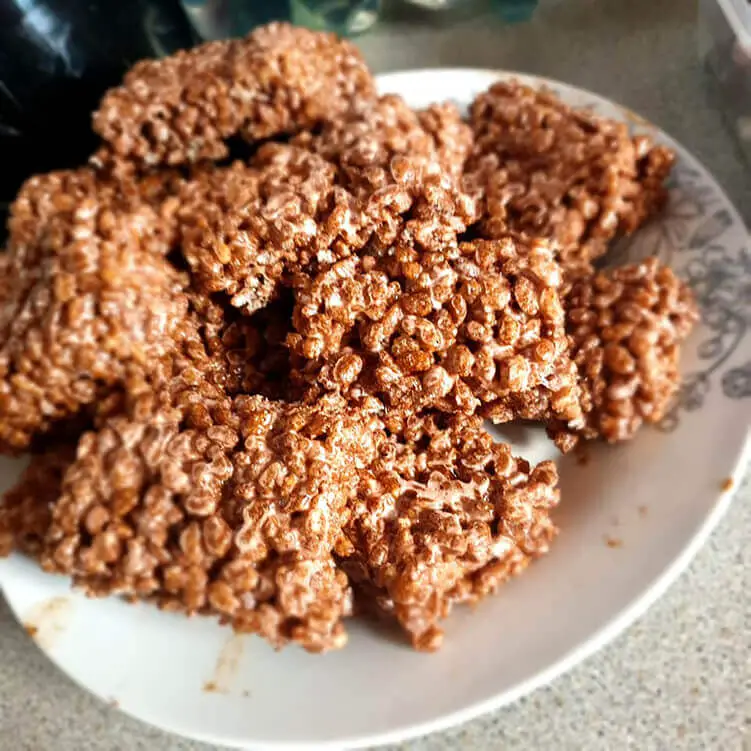 How To Make Crispy Rice With Crab Mayo
You can use leftover rice or newly-cooked rice for this recipe. We will give you instructions for both cases.
Step 1: Make Crispy Rice
Cook the sushi rice on the stovetop or in a cooker. If you use 1.5 cups of rice, it will give you four cups of rice when cooked.
When your crispy rice is hot, season it. This step involves adding sugar, rice vinegar, and sesame oil, then mixing it gently.
Place your seasoned rice in a rectangular or square dish. Remember to spread some oil on the dish before that so your rice won't stick to it.
Now, pack your rice down firmly and gently. A rubber spatula or a rice scooper can help you at this stage.
After that, place the rice in the refrigerator for about one hour. The cool temperature there will help it firm up.
If you work with leftover rice, simply season it and put it in your fridge overnight. Then, move to the next step.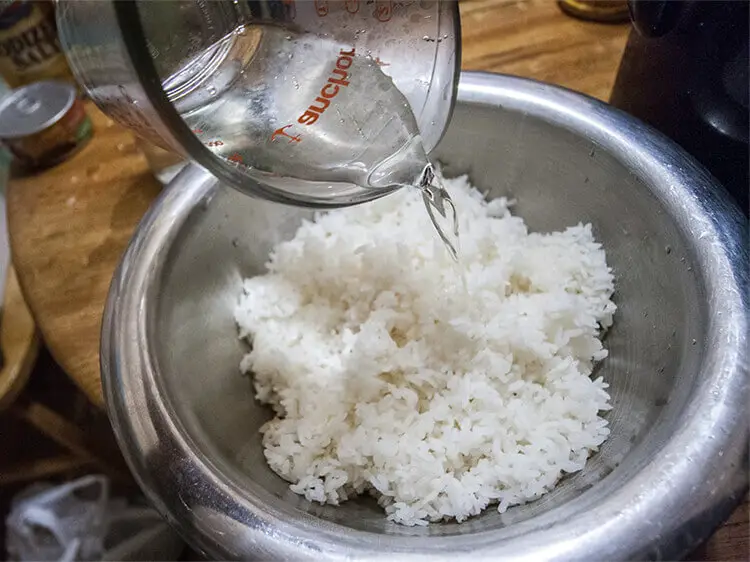 Step 2: Make The Crab Mayo
Making crab is as simple as mixing crab meat, mayonnaise, egg yolk, oil, and mustard in a bowl and whisking them thoroughly. Then, add sliced onions to the mixture. Now, the crab mayo is ready.
Now, prepare avocado for decoration and enrich the flavor of your rice. You need to cut the fruit in half, remove the skin and pit, and finally slide the halves into thin slices.
Remove the rice from the fridge and set it on a chopping board. Take a damp cloth and gently mist the knife.
Slice your rice into two-inch-long rectangular chunks with your dampened knife. This step should produce 12 equal pieces.
Add oil to a pan and heat it. When you see tiny bubbles in the pan, gently add rice pieces. They need two to three minutes to cook on each side. Once they turn golden, remove them from the pan.
Add the sliced avocado and then crab mayo on top. Garnish the rice with sesame seeds, and enjoy your dish!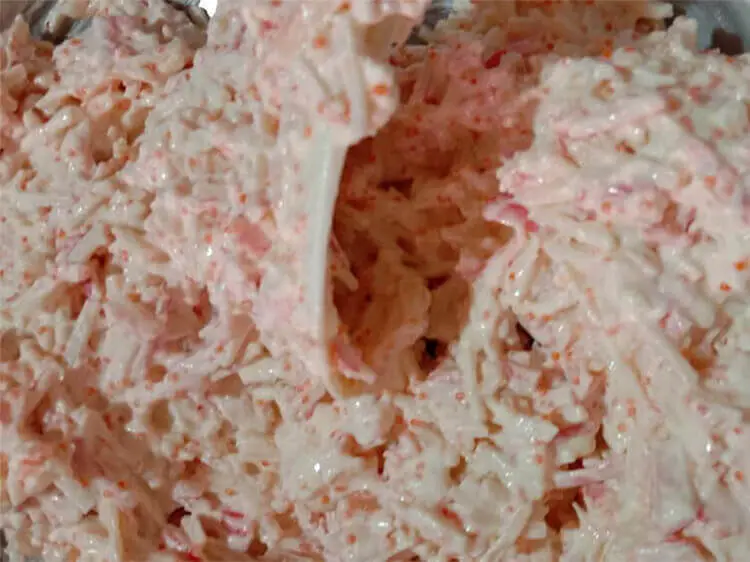 Crispy Rice With Crab Mayo Recipe: Summary Table
This recipe will be a perfect appetizer for your day. Try it to enjoy the terrific combination of the crispy texture of rice and crab meat on top.
Time
• Preparation: 1 hour (for newly-cooked rice) or 10 minutes (for leftover rice)
• Cook: 20 minutes
• Total: 80 minutes or 30 minutes
Servings
4
Ingredients
For the rice
• 1.5 cups of sushi rice
• 1 tablespoon of sesame oil
• 2 tablespoons of rice vinegar
• 1.5 tablespoons of sugar
• 3/4 cup of oil
For the crab mayo
• 120 grams of crab meat
• 1 tablespoon of sesame oil
• 2 tablespoons of mayonnaise
• 1 egg
• 3 stalks of onion
• Mustard
For topping
• 1 avocado
• Sesame seeds
Instructions
1. Cook the rice or use the leftovers.
2. Add sugar, rice vinegar, and sesame oil to the rice, then mix it gently.
3. Pack the rice firmly on the dish.
4. Place the packed rice in the refrigerator.
5. Mix crab meat, mayonnaise, egg yolk, oil, and mustard to create the crab mayo.
6. Slice the avocado into thin slices.
7. Fry the refrigerated rice until it turns golden.
8. Top the fried rice with avocado slices and crab mayo.
Enjoy your snack!
Read more: Fried Oyster Sushi Roll
Frequently Asked Questions
What Is Sushi Rice?
Sushi rice originates from Japan. It's short-grain rice, and the sticky texture makes it different from other types of rice.
Where Can I Find Ingredients For The Spicy Crab Mixture?
It would be best to use white meat for this recipe. You can find it in a crab's legs, claws, and main body sections. About the mayo, we highly recommend Kewpie mayonnaise because of its umami-rich flavor profile.
Conclusion
The crispy rice with crab mayo recipe is an easy one everyone can try at home. If possible, use sushi rice to yield the most impressive outcome.
Hopefully, you will find this recipe helpful. If you know any tips to enhance the flavor of this snack, don't hesitate to share them with us. We are so eager to hear from you.
Thank you for reading!