Crabs are one of the most commonly consumed seafood by millions of people around the world.
They provide a crucial protein-rich source and are a staple food in several famous restaurants as well as local grocery brands.
However, the common practice of boiling live crabs is controversial since some believe it is inhumane to animals.
Why do we boil crabs alive? Despite contentious public beliefs, it is the ideal approach to handle these crustaceans for many good reasons.
This article will explain why chefs handle and cook crabs in that way. Let's scroll down to explore!
Why Do We Boil Crabs Alive?
Being bottom dwellers, crabs frequently contain a lot of bacteria, which causes their flesh to degrade quickly after death.
People often boil crabs alive or immediately after death to reduce the risk of food poisoning and keep the texture and color of their meat.
Reduce The Risk Of Food Poisoning
According to the Journal of Food Protection, crabs pose a health issue to humans when processed improperly.
Instead of preparing crabs while still alive, some people opt to boil them after they have died, which poses serious health hazards.
When you cook dead crabs, the hazardous, poisonous bacteria in their body and shell can swiftly develop, generating toxins from the flesh.
Several pathogens, including the highly hazardous marine bacteria Vibrio parahaemolyticus, can result in food-borne illnesses.
Many crab species carry this harmful bacterium in their shells, bodies, and feces.
Almost quickly after a crustacean dies, the pathogen can spread throughout its body and perhaps infect other organisms.
Moreover, Vibrio parahaemolyticus may cause various diseases, including gastroenteritis, advanced wound infections, and septicemia.
You can't merely eliminate these poisons by simple cooking methods. Thus, it's better to boil crabs alive.
However, because crabs are live creatures and may thus experience pain, many believe this practice is cruel.
Whether crustaceans feel pain when cooked alive is still debatable, and different people have different opinions.
Some claim that because crabs lack genuine brains, they are not sentient creatures and cannot experience pain.
Some crustaceans may squirm and struggle ferociously to get out of the hot water, as seen by their body contortions.
These creatures don't have the same self-awareness level as humans. What you see is how they react to tissue injury physically and hormonally.
Yet, these animals also generate cortisol, which is present in humans when we experience pain. So, some researchers conclude that these crabs may feel pain.
The researchers don't state the pain level these crustaceans tolerate, so we don't know whether their pain is the same as human suffering.
Keep The Texture And Color Of The Meat
Live crabs' flesh becomes harder when cooked. This toughened flesh breaks away from the shells as they cool.
Cooking crabs, when dead, cause their meat to lose its texture and become pulpy when eaten.
On the other hand, boiling live crabs can keep the flesh texture and color, making picking the meat simpler and your food look more appetizing.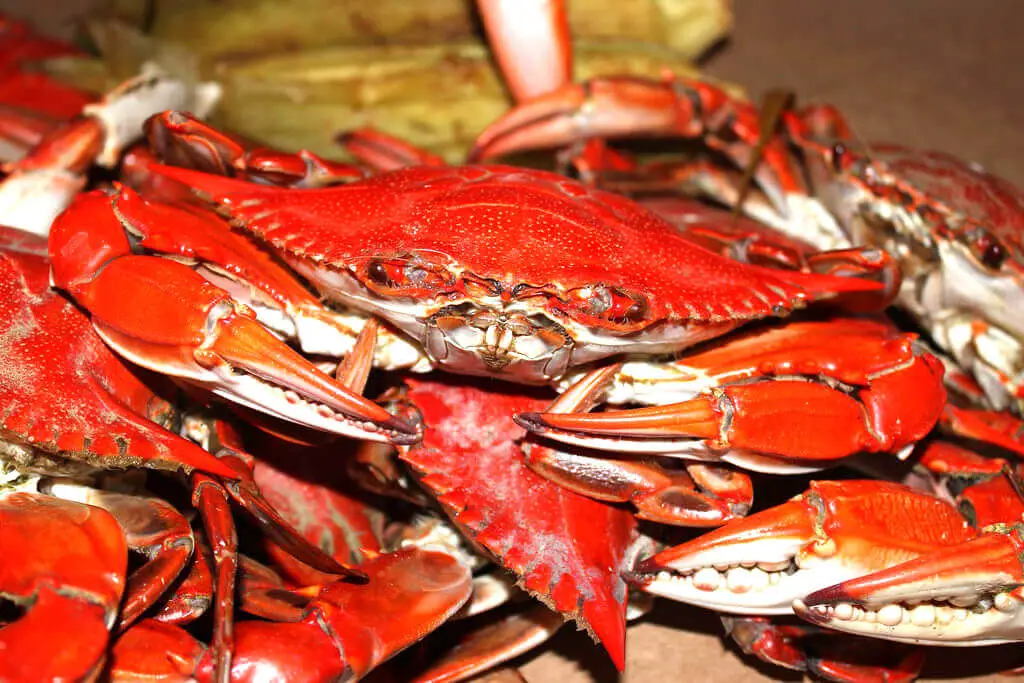 How To Humanely Kill The Crabs?
If you assume that crustaceans feel pain when you boil them alive, here are some methods of taking their life humanely and painlessly.
Use The Freezer
The crabs will enter a state similar to a coma if you freeze them for one hour under 39℉.
Reducing mobility is one of the main advantages of freezing. When you boil these crustaceans afterward, they won't move, so killing and cooking are more humane.
Nevertheless, this procedure takes a lot of time, making it unsuitable for people in a hurry.
Additionally, the crabs won't be entirely lifeless when you handle them. Instead, they will only be lethargic.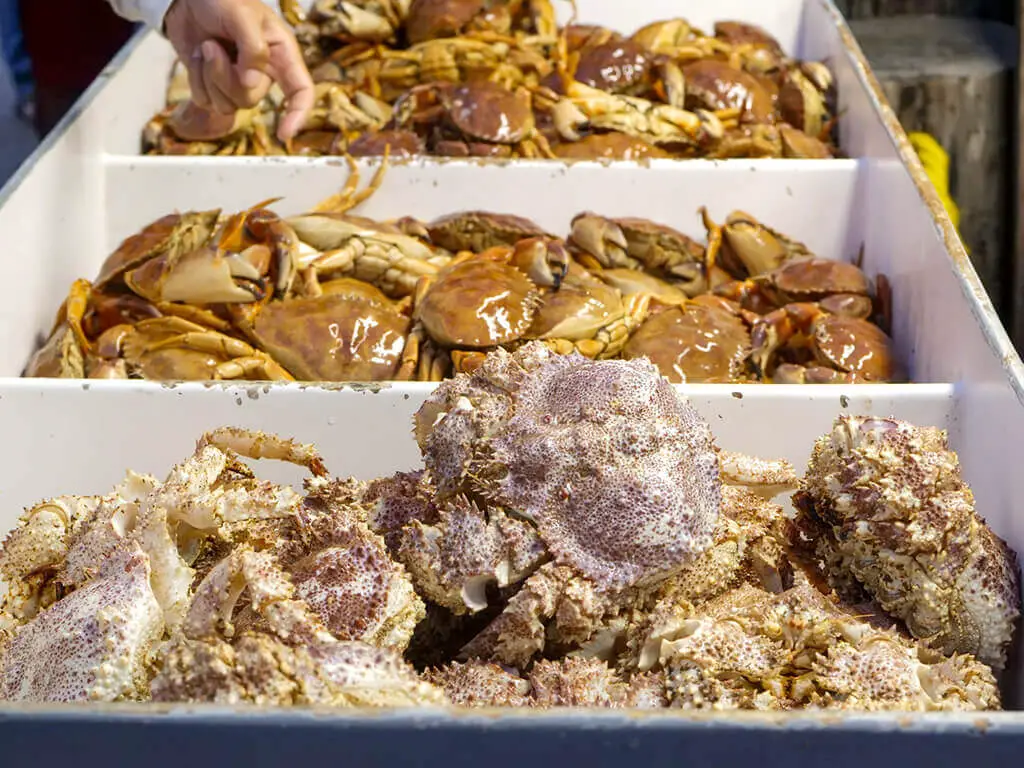 Scald In Hot Water
Another technique involves dipping the crustaceans in a big saucepan of boiling water for about one minute.
To ensure that the crabs will not become overdone after that, immediately submerge them in a basin of icy water.
The use of this technique is widely popular in western kitchens and restaurants.
Use A Knife
This technique is popular in Asian restaurants and kitchens. You will need to use a narrow, sharp knife when applying this way.
Determine the apron's top location on the crabs. Stab your sharp knife firmly into this point through their carapace.
The crab becomes quickly immobile and unconscious when this happens because it suffers a primary nervous system injury.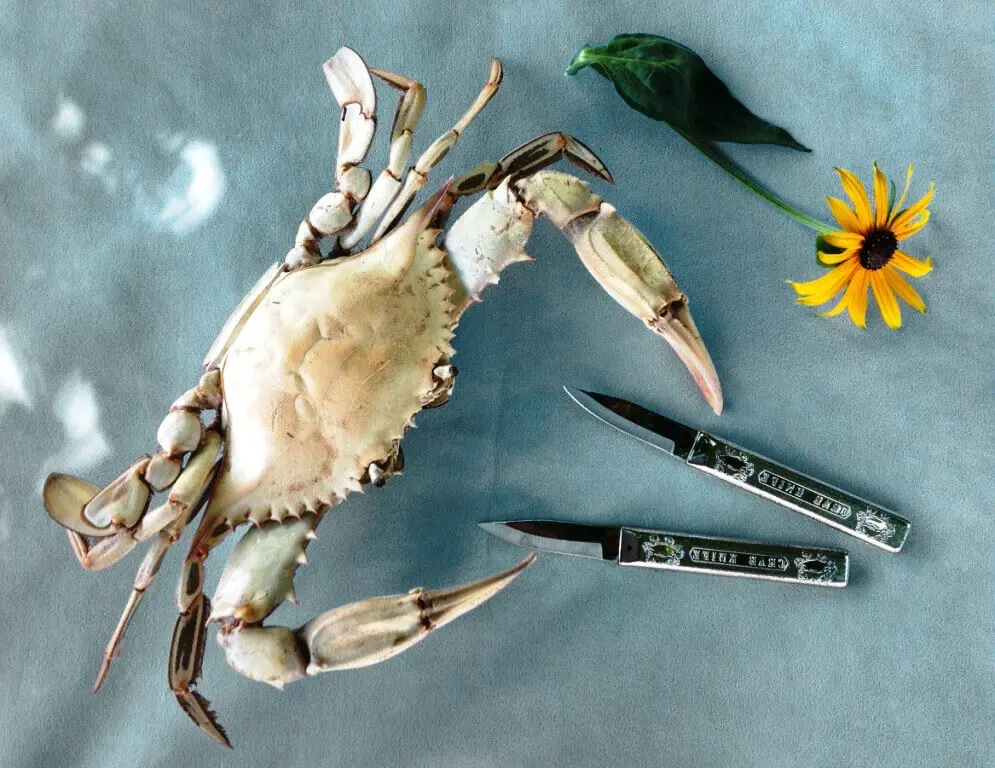 How To Clean Live Crabs?
After you apply one of the above ways to kill live crabs humanely, it's time to clean them before boiling them! The following guides will be helpful!
Step 1: To remove all mud residue on the crabs' exterior, use a brush or scrub to wash them.
Step 2: Remove the apron, which has a conical shape, under the crab's belly. Lift this section from the long side and pull it down to remove it altogether.
Step 3: You can now see an empty region that extends to the crab carapace after removing the apron.
Separate the remaining leftover underbelly and the carapace by grabbing them and pulling from the lower end.
Step 4: After removing the carapace, you can see the lungs of these crustaceans underneath.
These parts look like finger gills that are long and fibrous. Remove them as they are not edible. Rinse the crabs under clean water.
You can keep the carapace and boil it later with other parts to have a pleasant aroma for your dish.
Step 5: Cut the crustaceans into smaller pieces so you can efficiently process them before boiling them.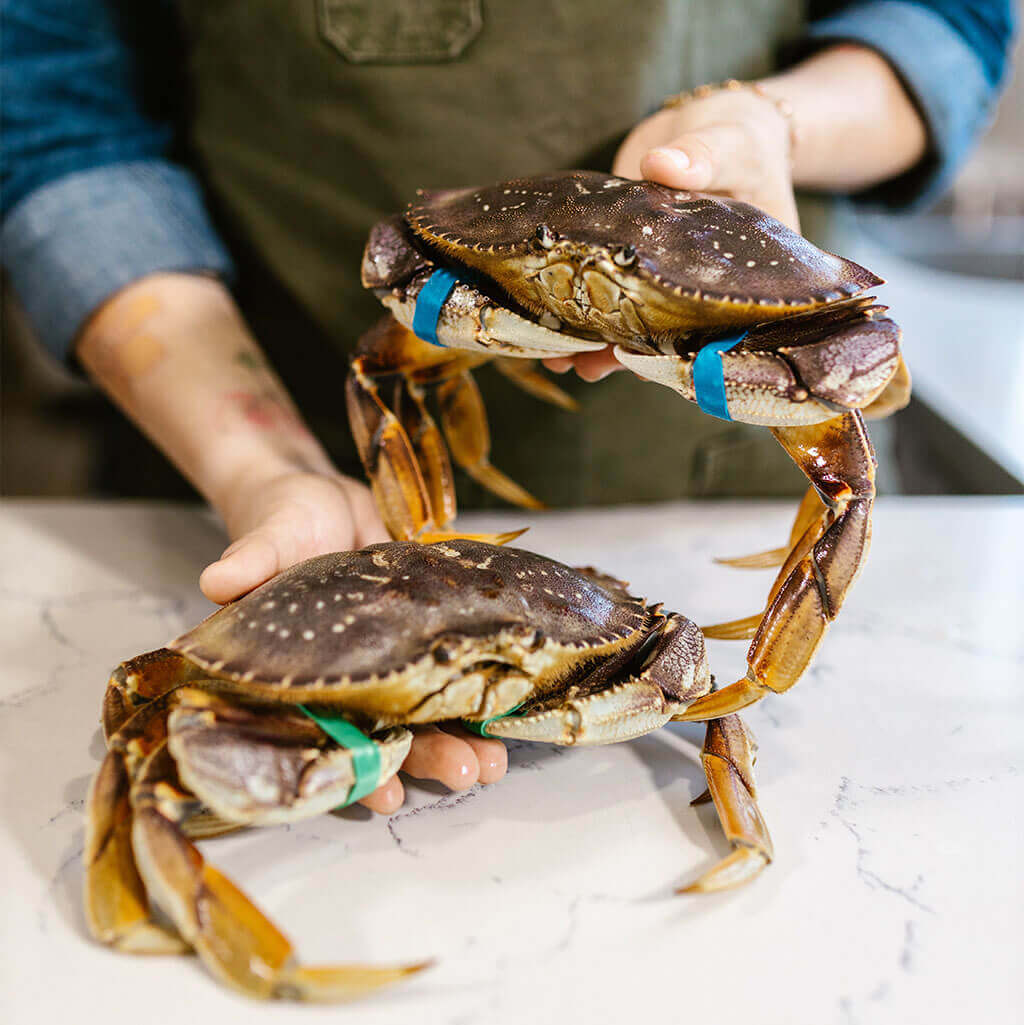 How To Boil Live Crab?
If you find it challenging to boil live crustaceans, it's best to follow the detailed guides below:
Preparations
A large pot
Salt
Black peppercorns
Paprika
Bay leaves
Step-By-Step Instructions
Step 1: To make live crabs immobile before cooking, freeze them for around 15 minutes.
Step 2: Pour water into a large pot. Add salt, black peppercorns, paprika, and bay leaves. Bring to a boil.
Step 3: Use tongs to take the frozen crabs out. You can cook one crustacean at a time, depending on the sizes of these crustaceans and your pot.
Drop them into the hot water with their legs facing downward.
Step 4: While boiling, fill ice and cold water into a big basin to get an ice bath.
Step 5: Boil crabs for about 15 minutes. Take them out and put them in a basin of ice water. That's all done!
If you want some tips for picking crab meat, you can watch this video:
How To Store Live Crabs?
After purchasing from the supermarket, it may be hard to keep the crustaceans alive until you are ready to prepare them.
Here are some storage tips you can consider:
In A Cooler
Step 1: Prepare the essentials before storing crabs, such as a cooler, ice packets, and towels.
Step 2: Pour ice packets evenly into the cooler's bottom.
Step 3: Cover these ice packets with a moist towel, which mitigates the harsh chill of the ice. The ideal temperature for crustaceans should be 50℉.
Step 4: If it is too cold, place another moist towel on the existing one.
The crabs can live in a wet, cold habitat formed by wet towels and freezing ice.
Step 5: Put your cooler in well-ventilated areas to prevent these crustaceans from suffocating.
Thanks to this storage method, you can keep crustaceans for an extended period, around 24 hours.
In A Tank
Ensure a moist, dark, and chilly environment for the crabs' survival. Remember that these crustaceans also need oxygen.
Close the cover of airtight tanks and place the crabs inside. You can also keep the crustaceans in an ice-filled tank as long as the cover is split apart to allow for ventilation.
In A Bushel Basket
Several professional, recreational, and commercial crabbers prefer this method to store their crustaceans.
Crabbers who need to immediately prepare their harvest or transport their products from one place to another will find this process more convenient.
Here are some tips use a bushel basket:
Put 2 or 3 towels in your basket. Keeping a bushel basket nearby while checking your crab pots would be best.
Cover it with a damp cloth when you've emptied the pots, and put your crustaceans in the basket. Instead of towels, you may use moist newspaper or seaweed.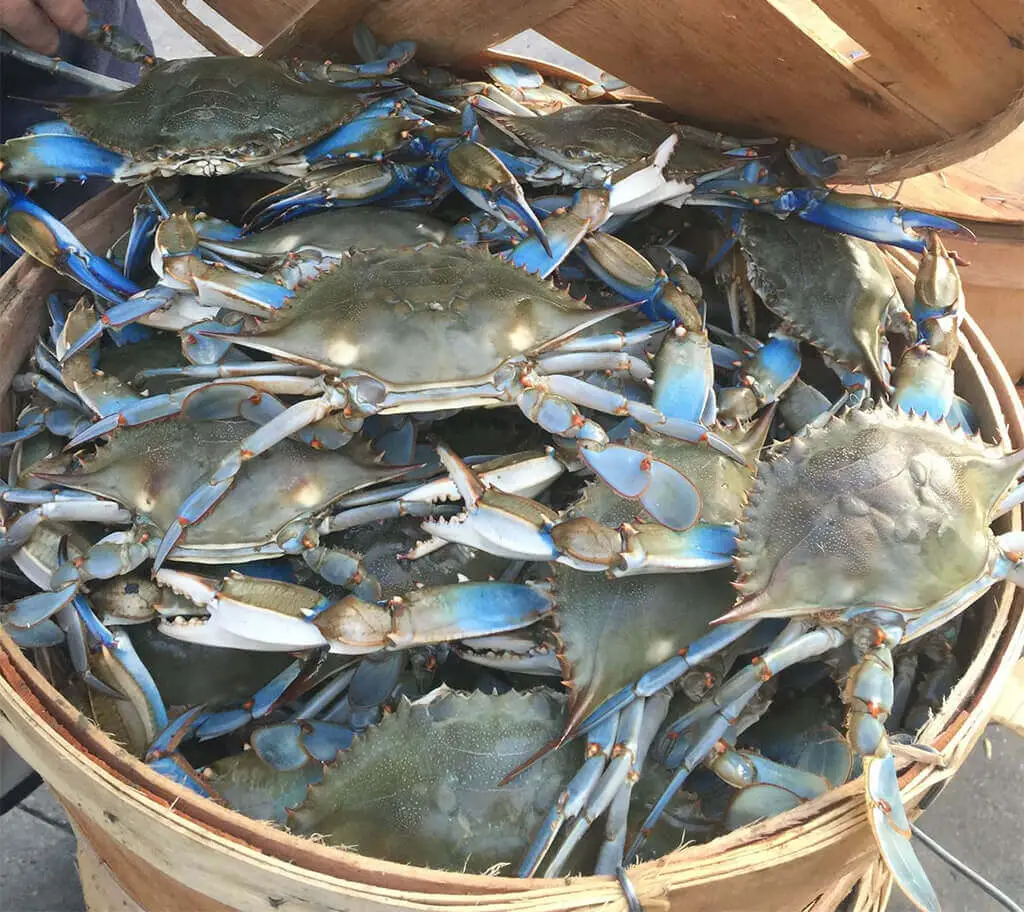 FAQs
Is It Cruel To Boil Crabs Alive?
It's a controversial question. Some people may believe boiling live crustaceans is cruel as they can "feel pain."
On the other hand, these creatures have primitive nervous systems, meaning their suffering differs from humans.
Therefore, the ultimate answer depends on the moral idea of each person.
Can Crabs Be Killed Before Cooking?
It's better to kill crabs before cooking for humane purposes. Moreover, this act prevents these crustaceans from shedding legs due to temperature shock.
Do Crabs Feel Pain When Cooked?
No specific studies show that live crustaceans also feel pain when cooked. These creatures don't have actual brains and lack the self-awareness level of humans.
While they release cortisol and struggle during boiling, it's just how they react to tissue injury physically and hormonally.
Will Crabs Stay Alive On Ice?
The answer is yes! These creatures can live on ice for around 48 hours before they die. Remember to replace the ice constantly.
How Long Do Crabs Stay Alive Out Of Water?
The crustaceans can survive out of the water for 1-5 days, thanks to their amphibious spirit.
However, they also require oxygen to breathe. Thus, if you want to keep them fresh for a few days before cooking, keep them in damp and dark areas.
In A Nutshell
Why do we boil crabs alive? It's a method of reducing the risk of food poisoning while keeping the texture of the meat.
Assuming this cooking technique is against animal welfare, you can apply humane ways to handle these crustaceans mentioned above.
Besides, you can use a cooler, tank, or bushel basket to prolong the lifespan of these creatures.
If you have further questions about this topic, please comment below. We're willing to reply to them all. Thanks for reading!