Clam chowder is among the best-loved comfort soups, especially for those who live in New England.
Chowder has been famous for a very long period. Clams were not initially the star dish, but now they are.
The earliest recipe for this delicacy first appeared in the Boston Evening Post's printing in 1751.
A perfect bowl has fresh clams, onion, celery, garlic, porky ness bacon, and creamy, great broth.
Luckily, you don't need to live or go to the coastal areas to enjoy the best version of this dish in the world.
You can cook it yourself at home with simple ingredients. How to make New England clam chowder?
Let's dive into this article to learn the most straightforward method and recipe tips to get the most delicious soup!
Choose Ingredients Like A Pro
The soup "New England clam chowder" is rich and creamy with simple ingredients, like clams, onions, potatoes, salt pork, milk, and heavy cream.
Some classic chowder recipes call for seafood, while others substitute starches like potato chowder (or corn chowder) or vegetables for proteins.
Even though these elements are easy to get and accessible, selecting quality ingredients can be challenging.
Look through the following tips to choose the ingredients for this delicacy as a pro!
The Pork
The pork should be cured meats to bring a rich smoky flavor to the broth. You can use the rendered fat to saute other vegetables.
It's easy to get pork products or bacon at almost all supermarkets in your region. Below are some options to select:
Sliced Bacon
Sliced bacon is the most popular and commonly store-bought type for breakfast.
The smokey taste of bacon blends well in a soup. However, the bacon's savor can overwhelm the clams' flavor.
When they boil in the soup, thin slices get a disagreeable texture as well.
Slab Bacon
If sliced bacon is not your go-to option, you can consider this type. You can select pork cut into ½ or ¼ chunks.
These lardons will blend well with the broth. Besides, their texture is ideal for matching with the clams, creating a cohesive look for the bowl.
However, like the first option, this pork still distracts the clams' flavor, which is your soup's main ingredient.
Salt Pork
This type is pork meat and fat salted and cured without being smoked. The main pig body parts used to make salt pork include the side, belly, and back.
However, the fatback is too fatty, making it mushy and oily in the soup. Thus, it's best to select salt pork having an equal portion of lean and fat.
If you are a vegetarian, it's acceptable not to add pork to your chowder. Instead, you can use other plant-based products to make it creamy.
The secret to cooking pig, of any type, is to cook it slow and low so that the fat drips off entirely without causing the meat to burn.
This cooking method provides a fantastic foundation for you to sauté the vegetables.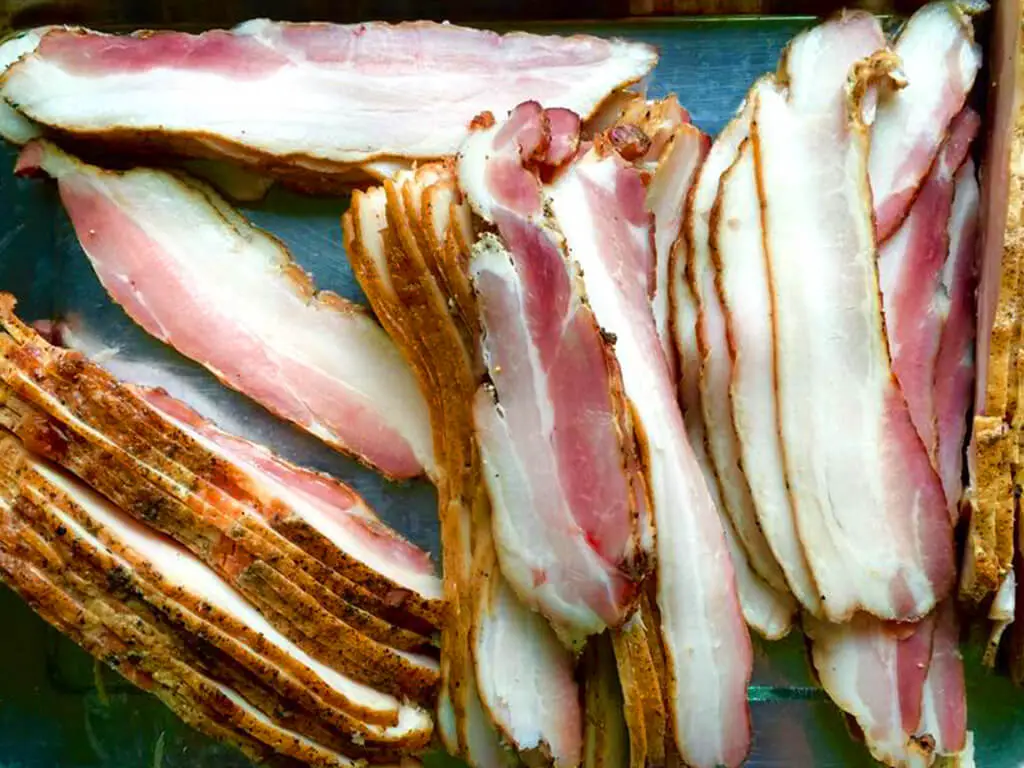 The Aromatics
Celery, bay leaf, and onions are the main flavorings of New England clam chowder. Thus, there is no reason to change or omit these classic aromatics.
You may create various clam chowder versions with other things, such as leek, garlic, or carrots.
However, these additions can distract the clams' taste and remove the must-have broth powderiness.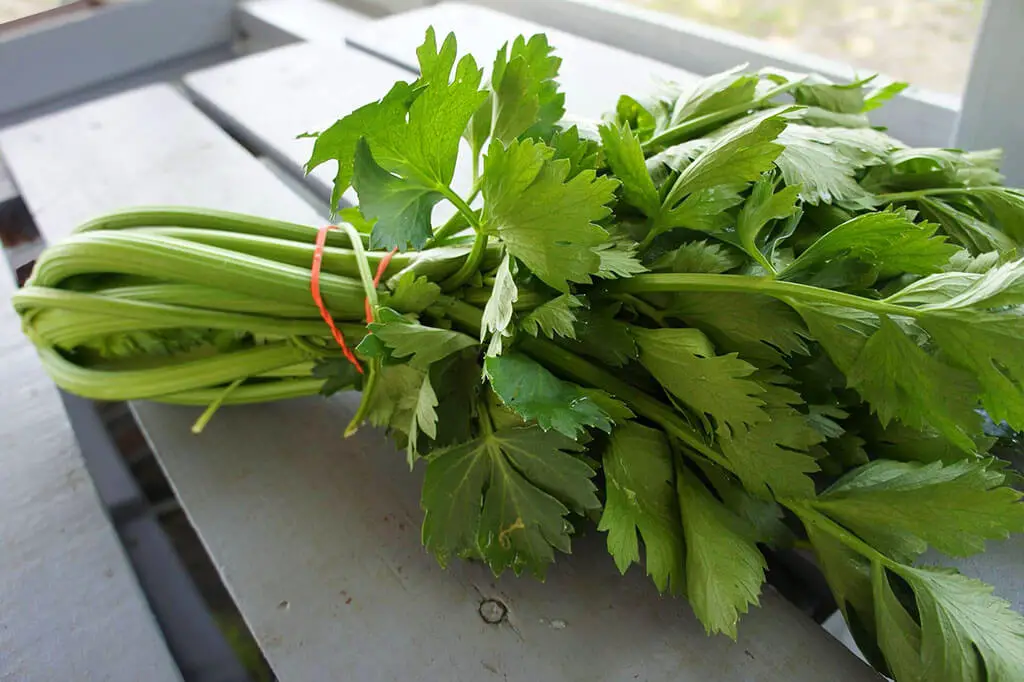 The Clams
Clams are bivalves developing slowly. Their size may vary considerably depending on how old they are when harvested. A clam will reach quahog size under ideal circumstances in 3 – 4 years.
It's best to choose fresh clams for your homemade chowder. However, you need to do one more step, which is steaming.
Fresh clams provide the soup with the flavor of clams direct from the shells and the saline, sweet clam flesh, making this local, regional chowder special.
You can find the following varieties of fresh clams in your local market:
Countnecks
These clams are uncommon. They have the smallest size when harvested.
Littlenecks
They are slightly more significant than the count necks. They are the ingredients for Connecticut pizzas.
Topnecks
People often call these clams with the names of cherrystones. They are a bit bigger than littlenecks, so sometimes they are categorized as littlenecks.
These top necks are excellent for baking and stuffing.
Quahogs
It is the most significant type. In some regions, they are known as chowder clams. Due to their size, they are great ingredients for chowder recipes.
While quahogs are meaty and affordable, littlenecks and cherrystones offer a better and more tender texture for the soup.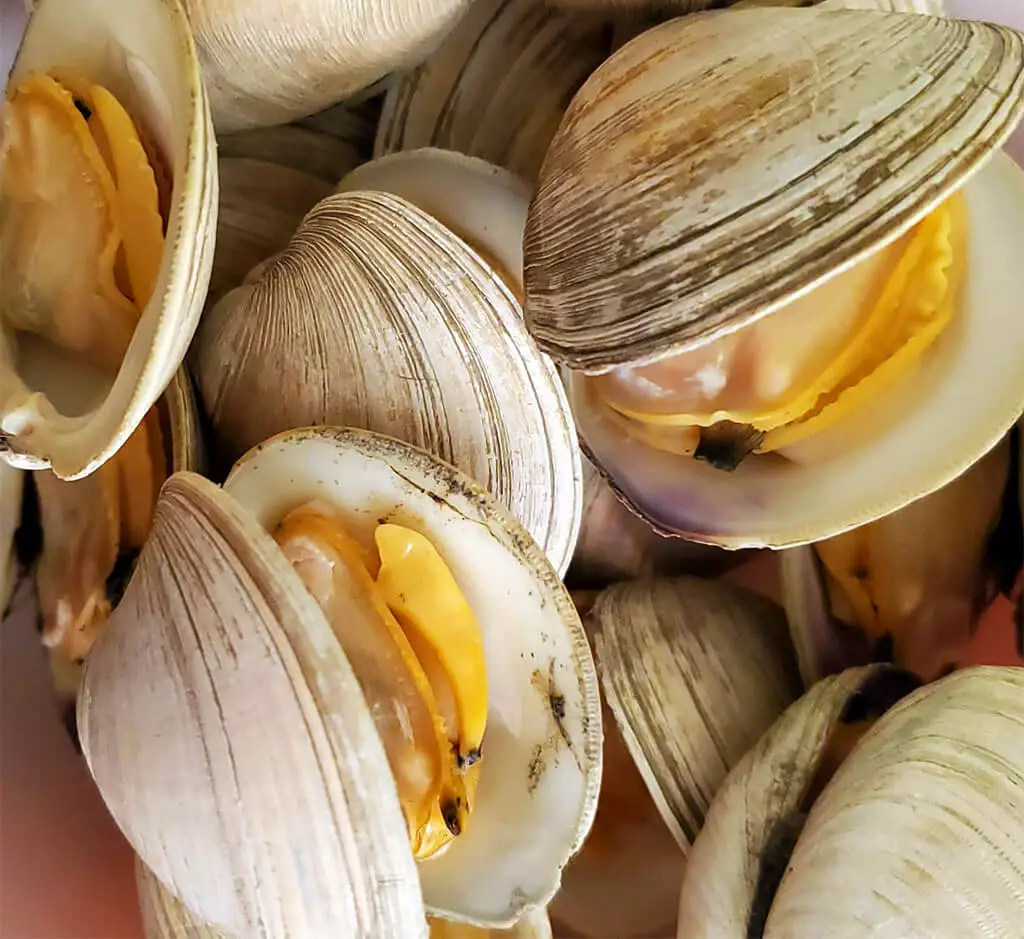 Fresh Clam Alternatives
In an emergency, frozen chopped or canned clams are an additional option if you can't get fresh clams in your region.
Furthermore, you can add clam juice to your chowder to enhance the flavor of your main ingredient. It's a good idea to use this enhancer even when fresh clams are available.
The Best Way To Thicken Chowder
If you want your clam chowder to have a thickened texture, there are various ways.
You can mix the rendered fat from the bacon with a bit of flour. Simmer this mixture, thickening your chowder and creating smooth, homogeneous consistency.
However, this mixture may cause a sludge effect, making the flavor of clams and pork goopy.
Another way is using potatoes to create your dish's most delicate, potato-like smoothness.
You must select suitable types of potatoes as some variants may lose their adherent properties, creating a curdled texture and broken appearance.
If all the above techniques don't work, you can use milk to thicken your chowder.
A homogeneous, creamy slurry is what you get when pouring milk from the bottle.
It happens due to the homogenization process, where the cream is pushed through a thin mesh under tremendous pressure.
The tip is that you can try cooking vegetables and potatoes in milk. After that, add cream. Strain your chowder through a strainer and blend this mixture in a blender.
The mechanical effect is robust in splitting fat droplets and pulverizing potatoes to release their starch, making the chowder thicken and homogenous.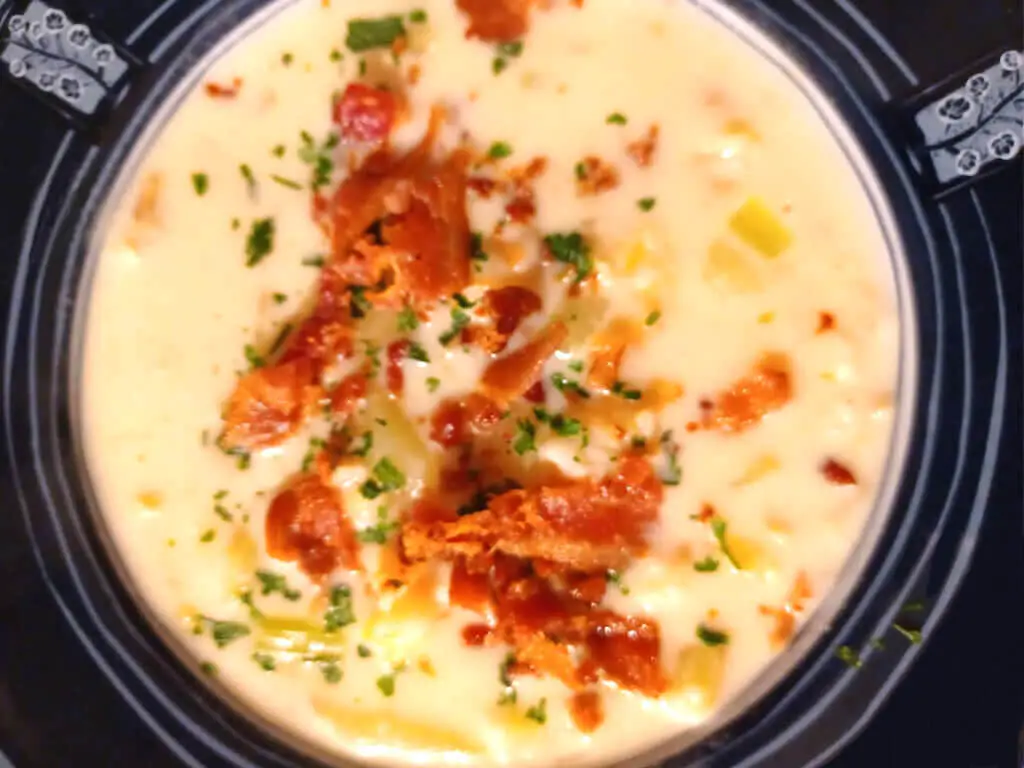 How To Make New England Clam Chowder
You may find several versions of cooking this delicacy on the internet. Our recipe will be the easiest to follow and bring a flavor similar to the traditional chowder. Let's see!
Ingredients
Chopped salt pork or bacon: 4 slices
Unsalted butter: 2 tablespoons
Chopped yellow onion: 1 cup
Chopped celery: 1 cup
Finely chopped garlic cloves: 2 cloves
All-purpose flour: ⅓ cup
Clam juice: 2 8 oz.
Milk: 1 ½ cup
Diced small Yukon gold potatoes: 1 lb.
Bay leaf: 1 (optional)
Kosher salt: 1 teaspoon
Ground black pepper: 1 teaspoon
Chopped canned clams: 2 6.5 oz.
Heavy cream: ½ cup
.Chopped parsley/chives: 2 tablespoons
Oyster crackers
Step-By-Step Instructions
Step 1:
Fill bacon or salt pork in a Dutch oven or big pot, cook for 8 minutes over medium heat, and remember to stir occasionally.
When the water evaporates, and the pork turns brown, use a spoon to take out the bacon.
Place the bacon on a dish covered with paper tissues, and save the bacon drippings in the pan for later use.
Step 2:
Add unsalted butter to the drippings and chopped onions and celery.
About four more minutes of cooking time, stirring occasionally will result in softened but not browned onions.
Cook for one minute after adding the finely chopped garlic. For two minutes, while continuously stirring, sauté the veggies with the flour sprinkled over them.
Add the milk and clam juice gradually while whisking the mixture until smooth.
To prevent the flour from sticking, bring the mixture back to a boil while stirring continuously and scraping the bottom and sides of the pan.
Step 3:
Add clams and turn the heat up to high. Cover the pan and keep cooking. Remember to stir occasionally.
After approximately 3 minutes, the clams start to open. Use tongs to take them out and put them in a big bowl.
Try to keep as much clam juice as possible in the pot. If there are still unopened clams, cover the lid, and cook them for about 8 minutes. After that, remove them.
Step 4:
Add bay leaves, potatoes, milk, Kosher salt, and ground black pepper to the pan. Bring to a boil.
Cook, constantly stirring, for approximately 15 minutes, or until potatoes start breaking down at a low simmer.
Step 5:
Take the clam flesh out and finely cut it. Remove the empty shells.
Put the cut clams with as much liquid as possible into a big bowl strainer.
Place the chopped clams in another bowl after letting them drain. Separate the two bowls.
Step 6:
When the potatoes get tender, use the strainer to strain the mixture in the clam juice bowl.
Put strained solids in the chopped clam bowl. The broth in the pot should be white and semi-broken.
Step 7:
Blend the liquid in a blender at high speed for two minutes or until it is smooth and homogenized.
Step 8:
Return this liquid and the strained solids into the Dutch oven and pour heavy cream. Stir well to combine them.
Heat until simmering. Add black pepper and salt. Add oyster crackers, cooked bacon, chives, and fresh parsley. Serve immediately!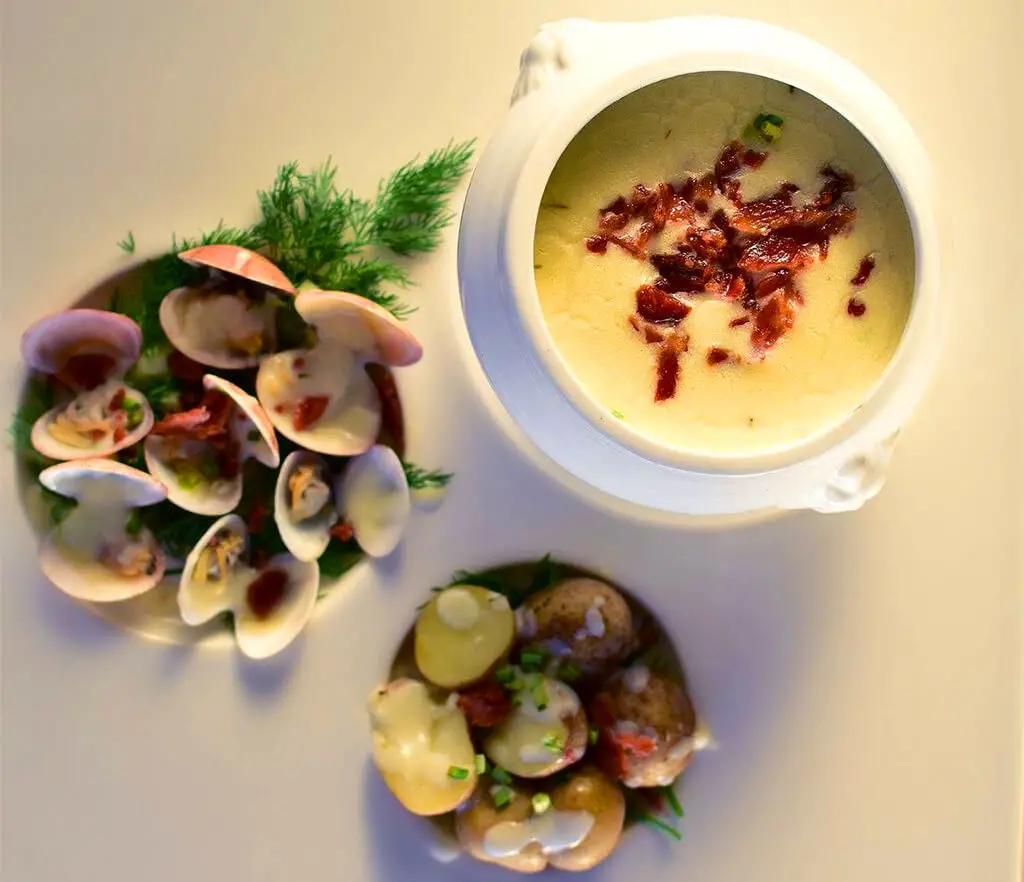 Recipe Tips
Here are some tricks before, during, and after cooking your New England clam chowder:
Make It Your Own
Apart from the essentials recommended above, you can also bring extra components to your soup.
For instance, dice carrots and add them to the dish to blend with potatoes for a colorful bowl.
Besides, remember to add bay leaves and other fresh herbs, such as parsley, to enhance the flavor of the chowder.
Furthermore, serve this dish with a sherry drizzle on top like other seafood chowders and soups.
Slow Cooker
Put bacon in a pot and cook them until crisp. Remove them, place them on paper tissues, and store them in the fridge for later use.
Add the rendered fat of the bacon, potatoes, onions, garlic, celery, chicken base, clam juice, and water to the slow cooker.
Select the low setting to cook the soup for 7 – 8 hours. Otherwise, set the high mode for cooking for 3 – 4 hours.
Add clam flesh and juice to the cooker and cook on a high setting for 30 minutes.
Whisk the flour. Add the seasonings and flour. After that, continue cooking until heated. Add cooked bacon and stir well.
Storage
You can store it in the refrigerator if you have too much soup and can't finish it for a meal that day.
This way, you can keep the leftovers for around four days before it goes bad.
Freezer
The most effective method to store your clam chowder is to freeze it. Follow these storage guides:
Cool the soup in the fridge.
Pour it into a freezer container or a heavy-duty freezer bag. It can last up to four months.
If you want to use it, put it in the fridge to thaw overnight. Reheat in a microwave or on a stove, and enjoy your meal.
New England Clam Chowder Recipe
Let's take a closer look at this table to make your cooking process much more manageable. We've listed the required ingredients and steps!
Time:
Prep: 5 minutes
Cook: 45 minutes
Active: 30 minutes
Total: 50 minutes
Ingredients:
Chopped salt pork or bacon: 4 slices
Unsalted butter: 2 tablespoons
Chopped yellow onion: 1 cup
Chopped celery: 1 cup
Finely chopped garlic cloves: 2 cloves
All-purpose flour: ⅓ cup
Clam juice: 2 8 oz.
Milk: 1 ½ cup
Diced small Yukon gold potatoes: 1 lb
Bay leaf: 1 (optional)
Kosher salt: 1 teaspoon
Ground black pepper: 1 teaspoon
Chopped canned clams: 2 6.5 oz
Heavy cream: ½ cup
Chopped parsley/chives: 2 tablespoons
Oyster crackers
Instructions:
Cook bacon for 8 minutes and transfer them to a plate lined with paper tissues.
Add unsalted butter, chopped onions, and celery. Cook for 4 more minutes. Add garlic, and vegetables, and sprinkle the flour, and saute it in 2 minutes. Then, add the milk and clam juice.
Add clams and cook for 3 minutes. Cook broth for 8 minutes.
Add bay leaves, potatoes, milk, Kosher salt, and ground black pepper, and cook for 15 minutes.
Cut clam flesh. Strain clam juice and clam meat.
Blend strained solids and potatoes for 2 minutes.
Return this liquid and the strained solids into the Dutch oven and pour heavy cream. Stir well to combine them.
Heat until simmering. Add black pepper and salt. Add oyster crackers, cooked bacon, chives, and fresh parsley. Serve immediately!
Nutrient facts (per serving):
Servings: 4 – 6
Calories: 772
% Daily Value*
Total Fat 56g: 72%
Saturated Fat 26g: 130%
Cholesterol 135 mg: 45%
Sodium 1836mg: 80%
Total Carbohydrate 43g: 16%
Dietary Fiber 4g: 13%
Total Sugars: 13g
Protein: 24g
Vitamin C 25mg: 125%
Calcium 299mg: 23%
Iron 3mg: 18%
Potassium 1326mg: 28%
New England Clam Chowder Recipe
FAQs
What Is The Base Of New England Clam Chowder?
While New England clam chowder comes in various versions, most of the recipes call for the ingredients, including
Salted pork or bacon
Onions
Celery
Flour
Milk
Potatoes
Clam juice
What Are The Different Types Of Clam Chowder?
Contrary to common assumption, New England is home to several varieties of clam chowder. Here are some types of clam chowder you may want to know:
New England Clam Chowder
Rhode Island Clam Chowder
Milky Maine Clam Chowder
Portuguese Clam Chowder
Connecticut Clam Chowder
What To Serve With New England Clam Chowder?
Here are some of the top side dishes for clam chowder:
Oyster crackers
Bread rolls
Salad
Roasted vegetables
Corn on the cob
French fries
Bacon
Cornmeal Pancakes
Mussels
Calamari
Salmon
Bacon-wrapped scallops
Crisp corn & clam fritters
White lily cornbread
Cheesy beer batter bread
How To Purge Fresh Clams?
Follow the steps below to purge fresh clams:
Rinse fresh clams under the water. Remove open shells. Put them in a large bowl.
Soak clams in salt or seawater for at least one hour.
Remove these fresh clams from the salt water.
Rinse them again.
If you want more tips to buy and clean clams, you can watch this video:
What Kind Of Clams Are Used In Clam Chowder?
If you plan to cook fresh clams, selecting cherrystones is better. These clams are much more tender than quahogs.
However, if you can't get cherrystones, consider quahogs as an alternative, as they are more affordable.
Can I Use Milk Instead Of Cream In Chowder?
The good news is yes! You can use milk if the cream is unavailable in your kitchen or you can't get it anywhere.
You can mix ¼ cup of melted unsalted butter and ¾ cup of milk to have a similar texture to heavy cream.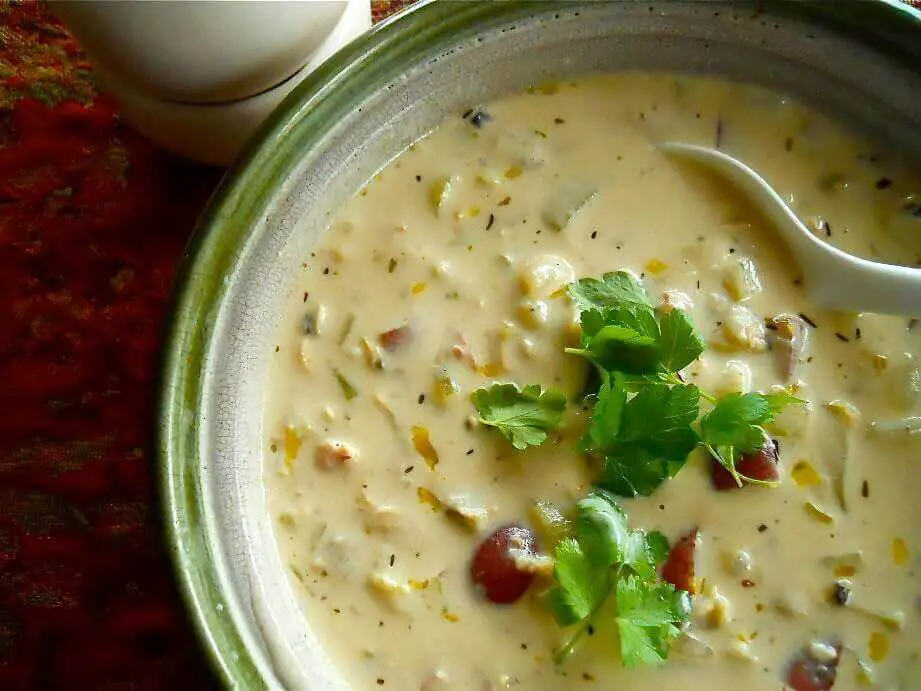 In A Nutshell
How to make New England clam chowder? Generally, it's not too complicated to cook this delicacy if you follow our detailed instructions.
Before cooking, ensure you have all the essential ingredients for this soup. This soup will be a creamy appetizer or a delicious main dish. Give it a try!
If you want other recipes, don't hesitate to contact us. We're eager to share other cooking methods with you.
Thank you for reading!