Hermit crabs' offspring, king crabs, share the same trait of having ten legs and two claws of various sizes.
They have the scientific name of Paralithodes camtschaticus (red king crab) Japanese crab, or Alaskan king crab. So where are king crabs caught?
This article will show you everything related to this species, such as appearance, behaviors, habitats, longevity, and breeding.
Let's scroll down to discover in detail!
What Does King Crab Look Like?
King crabs are among the largest crustaceans known to humankind. They may be heavier than 11 pounds, meaning they weigh more than a domestic cat.
Their length can be as far as a person's height since their entire leg spread is more than 5 feet.
Often referred to as red king crabs, these crustaceans are not always red. Instead, they have a burgundy or orange hue.
Some varieties may come in brownish blue. Their name is due to the color they turn into (bright red after cooking).
These crabs have large, thick shells that are typically referred to as carapaces, like most other crustaceans.
They have enormous, sharp spines covering every inch of their body, which provides them with extra defense.
The males are often bigger than the females. You can recognize them by the differences in their body shapes.
Male crabs have a narrower abdomen with a triangle shape, while females have a wider one with a fan shape.
These crustaceans have ten legs equally divided into five pairs on two sides. The two bigger first legs function as arms with sharp pincers at the end.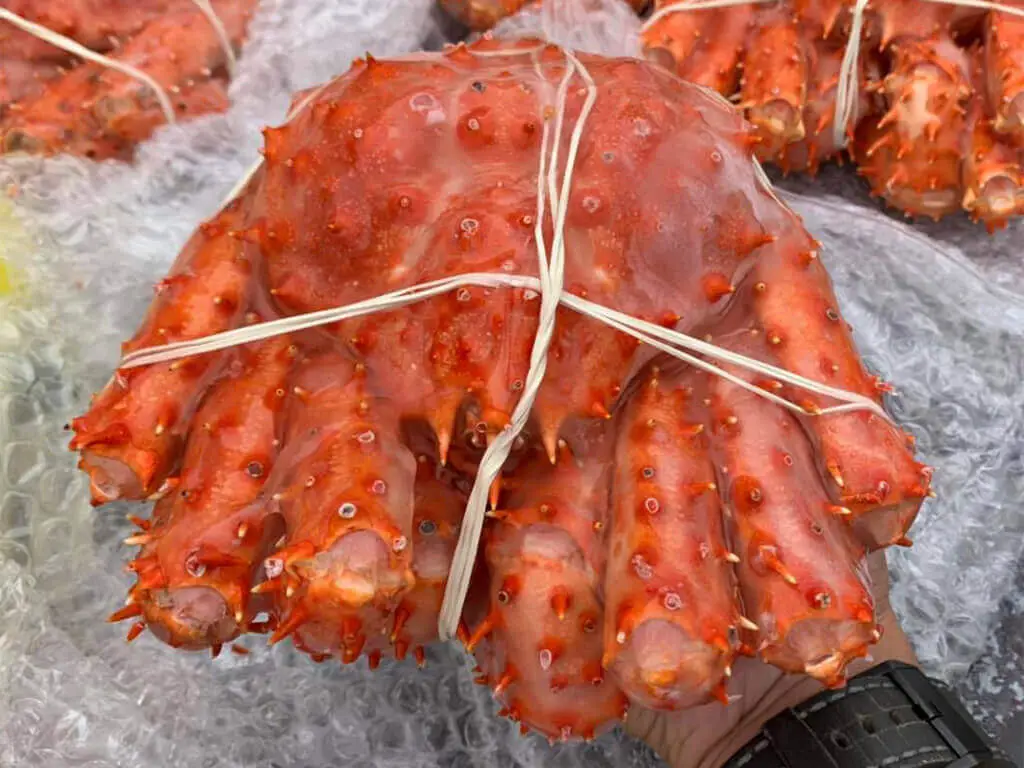 What Are Common Behaviors Of King Crab?
Due to their shy nature, these crabs typically flee from danger. Although they may attack a predator with their pincers, most prefer running away from a conflict than fighting in one.
These crustaceans are carnivores. They can eat smaller marine creatures like snails, worms, barnacles, sea urchins, fish, clams, or mussels. Sometimes, smaller crabs may be their diet.
They aren't picky eaters. That's why they have another name for opportunistic feeders. They will consume whatever invertebrates they can catch and smash with their sharp pincers in the surrounding environment.
Contrary to popular belief, king crabs won't be aggressive and dangerous to humankind. Fishing these crustaceans is risky because of other reasons.
These creatures live alone unless during the mating season. In the presence of dangerous predators, they cluster together to protect each other.
They'll form a "pod" by stacking on carapaces of one another to make themselves look bigger and scarier.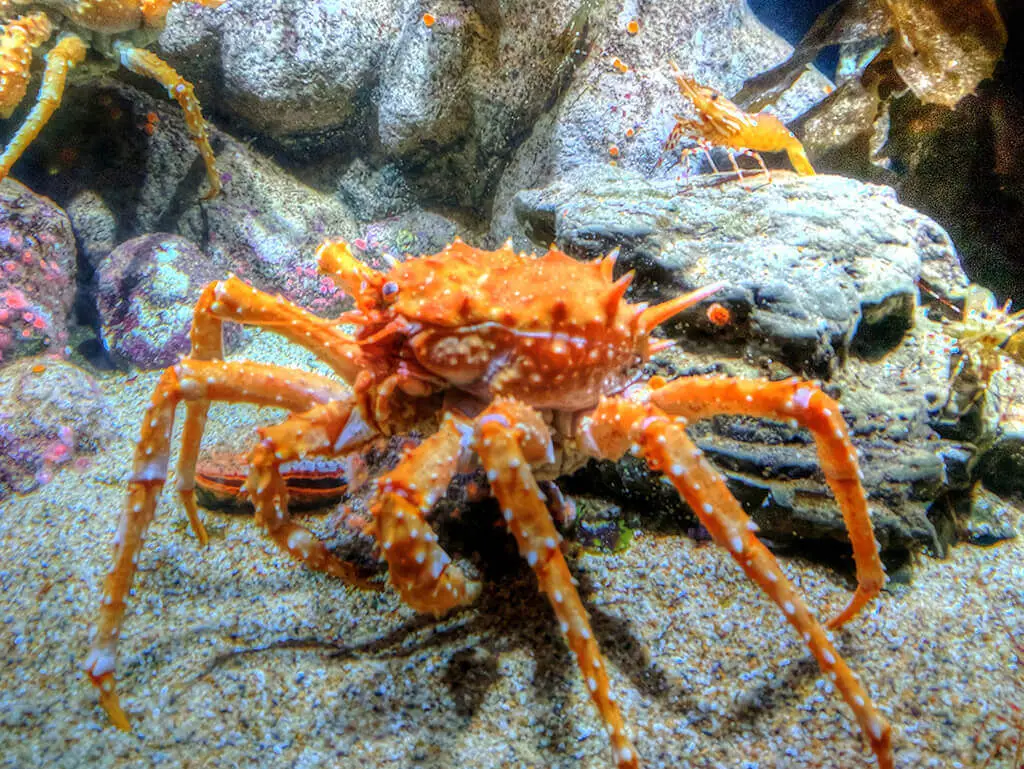 Where Are King Crabs Caught?
As their name suggests, king crabs are native to shallow water surrounding Japan, Alaska, and the Bering Sea coasts.
They are among the most commonly served seafood, and most cultures worldwide value their meat as a delicacy.
Most king crab species prefer to dwell in muddy, shallow waters no deeper than 200 ft along coasts.
Yet, they are relatively versatile and may survive in seas as profound as 650 ft.
The preferred temperature range for adult Alaska king crabs is often cold water between 2 and 4℃, or 35 and 40°F.
These creatures typically live between 65 and 165 feet under the surface until they are two years old.
At this period, they frequently form a "pod," a nighttime activity in which thousands of crabs cluster in massive, dense groupings.
It creates extra protection from dangerous hunters and predators because they are not fully mature.
While they will go to shallower, rougher regions to breed, adult crustaceans eventually live in seas over 650 ft deeper on sandy bottoms.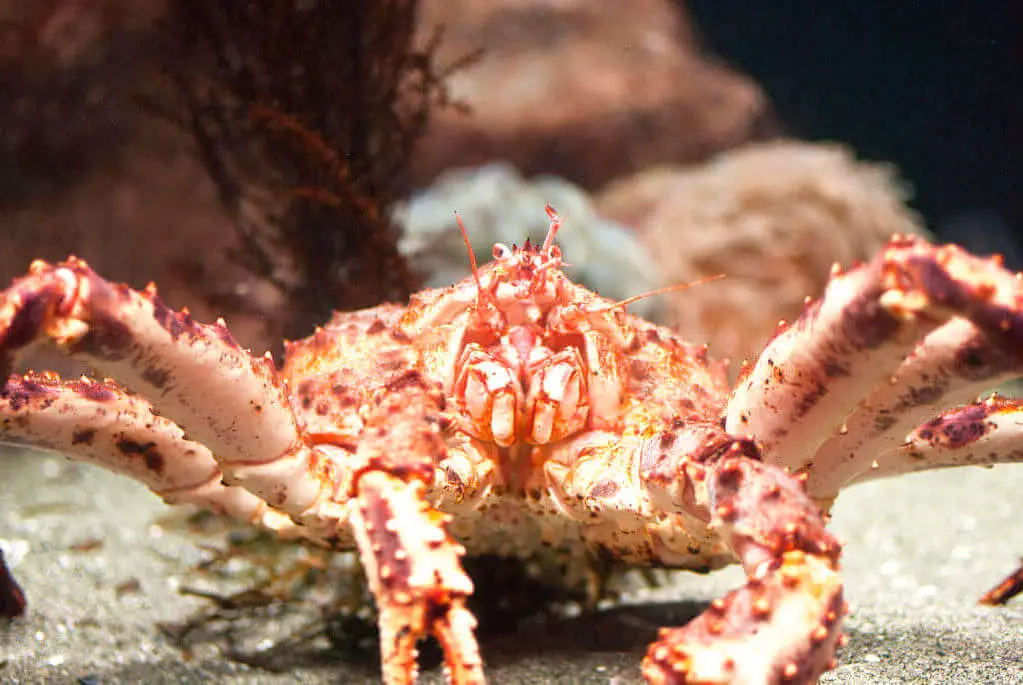 What Is The Lifespan Of A King Crab?
These crabs have a 30-year lifespan in nature. It's not always the case, but if they can live around 20 years without human harvesting.
Besides, many factors affect their longevity, as shown below:
Predators:
Numerous creatures in the sea hunt these crabs, such as fish, sharks, porpoises, dolphins, and birds.
Octopuses also are one of their predators. Besides, humans harvest these creatures for their delicious meat.
Loss of habitat:
Juvenile crabs need grass beds to escape from predators. When these habitats lose, they don't have hiding places, affecting this species' longevity and survival chances.
Climate change:
Temperature changes may impact the abundance of prey, the number of predators, and winter death rates. Sea level elevation may affect foraging and nursery environments.
Precipitation changes cause a decrease in food supplies and a reduction in suitable habitats for these crustaceans to survive.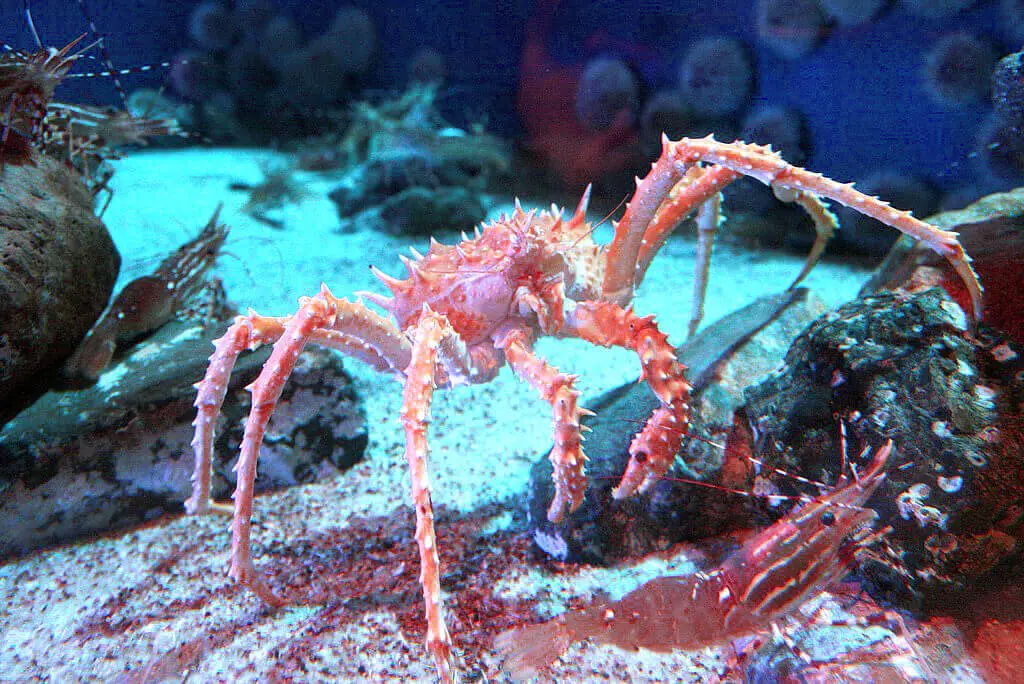 How Do King Crabs Breed?
Red king crabs have internal fertilization during sexual reproduction. In shallow waters, mating takes place.
Females can lay from 50,000 to 500,000 eggs yearly, depending on their size. During mating, the male fertilizes the eggs while grasping the female.
She will harbor these fertilized eggs under her belly flap for around 11 to 12 months to wait for them to hatch.
The larvae resemble shrimp when they first emerge from the egg. The babies prefer to swim rather than spend time with their mother, but they need the help of currents and tides.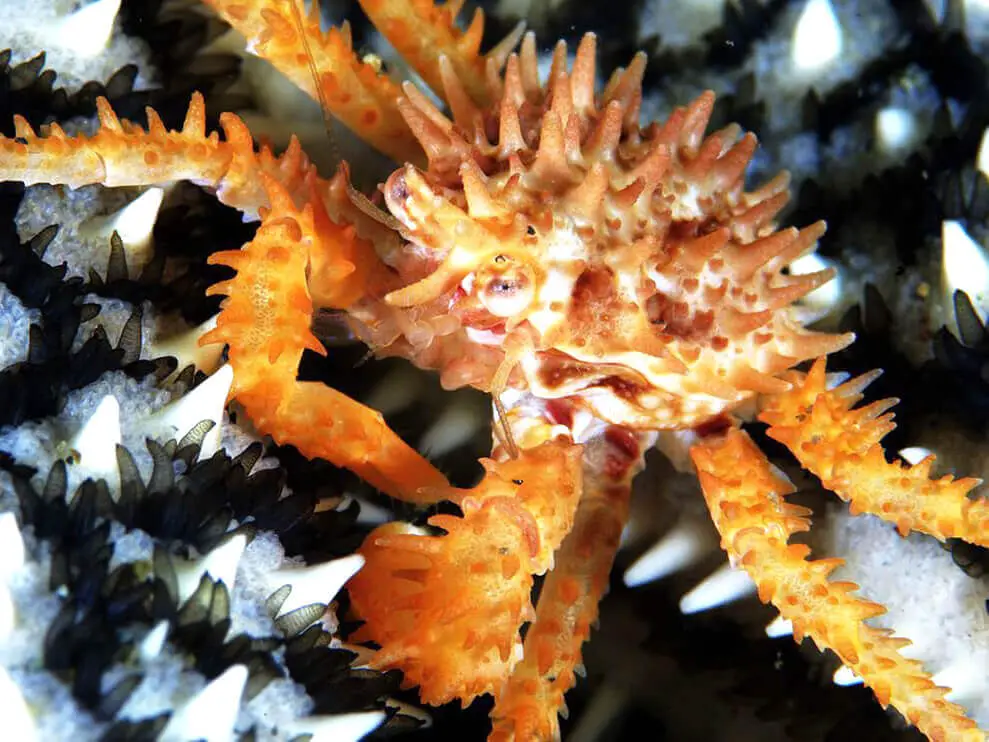 FAQs
Is All King Crab From Alaska?
The answer is no. The habitats of these creatures are diverse, ranging from the coasts of Japan to Alaska or the Bering Sea.
Is Costco King Crab From Russia?
The short answer is yes. The Costo king crab products are labeled in Russia but processed in the US.
How Are Alaskan King Crabs Caught?
Most of the time, the fishermen use a fishing pot. It is a steel trap with a square frame and can weigh 600-800 pounds.
How Old Is A King Crab When Harvested?
It's acceptable to harvest these crabs when they reach the age of five years old.
However, harvesting isn't allowed during molting and mating periods to ensure the population of this species.
You can watch this video to know how fishermen catch Alaska crabs:
The Bottom Line
Where are king crabs caught? These crustaceans are found in shallow waters surrounding Japanese or Alaskan coasts and the Bering Sea.
These creatures are not aggressive despite their appearance. They can live up to 30 years if there is less threat to their life.
If you have further questions about this topic, you can comment below. We're willing to reply to them all. Thanks for reading!