Many people want to try preparing lobster claws at home since it is more affordable and they are relatively easy to make.
You can decide to boil, steam, or grill these lobster parts. However, it's a good idea to bake them in the oven.
How to bake lobster claws? Let's dive into this article to learn some guides to preparing claw meat!
How To Bake Lobster Claws
The claw flesh is among the most delicious parts of lobsters. It's best to know the best way to bake it at home.
Let's take a closer look at the guides below to get the most satisfactory results!
Preparations
Before baking lobster claws, prepare them adequately for good taste and flavor.
To ensure the claws you purchase are as freshly caught as possible, pick live lobsters whenever possible.
While it requires some preparation, the flesh from the claws is worth it since it is tastier and softer than the one from the tails.
To prepare claws, follow the simple steps below:
Place the claw's central portion on a board with its edge facing up.
After using your knife to split the shell, flip it over and proceed once more.
The shell pieces will come off after twisting the blade, and you will have an intact claw.
Repeat the steps with other claws.
Now they are ready to bake.
Step-by-Step Instructions
You can use an oven for baking this seafood since it allows you to adjust the temperature settings without monitoring.
If you plan to bake one pound of claws, the baking time is around 13 minutes. Add three more minutes for every pound.
You can bake the whole claws with shells or crack them before baking.
If you store them in the freezer, remember to thaw them first.
Clean and wash them thoroughly. It's better to follow the detailed guides below:
Set the oven's temperature to 360 F and preheat.
Prepare a container that is oven-safe and line it with foil. Place the claws inside it.
Sprinkle pepper, garlic powder, and salt on the claws.
Put the claws in your oven. Adjust the timer for around 13 minutes.
If you bake more than one pound, remember to add three more minutes for each additional pound.
After the setting time, remove the claws from the oven.
Allow enough time for them to cool.
Serve the meat with lemon dipping and soy sauce. Otherwise, it's good to eat with potato salad, fresh salad, coleslaw, steamed clams, or pasta salad.
What Are The Proper Ways To Cook Lobster Claws?
Besides baking, it's a good idea to boil, steam, grill, or fry lobster claws. Here are some cooking methods you can try at home:
Boiling
Boiling is the most popular and straightforward way to prepare lobster claws. You only need to have a pot to contain these parts.
If frozen, you must thaw the claws thoroughly first.
Pour water into a large pot.
Add pepper, salt, minced garlic, and paprika.
Bring to a boil.
Drop claws in the pot and cover.
Once the water boils again, set the timer for around 13 minutes.
After the setting time, remove the claws from a container for draining and cooling.
Enjoy your dish with your favorite sauces.
Grilling
If you want a healthy method to cook lobster claws, it's best to grill them.
If you set the proper and stable temperatures, you can retain the pure flavor of this seafood.
Always thaw claws thoroughly if frozen, and wash them.
Use some salt and lemon to rub them.
Heat the grill while preparing the claws.
Wrap them carefully in a foil twice.
Place the foil on the upper deck and close your grill. Start timing for around 20 minutes.
After that, transfer the foil from the grill with safety measures.
Allow time for cooling before serving your dish.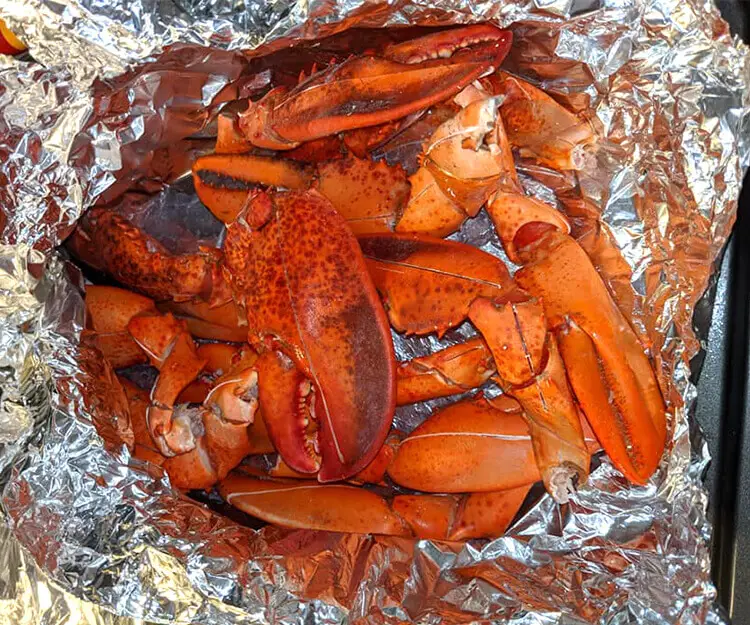 Steaming
You can retain the natural flavor of lobster claws if you steam them properly. Consider the following guides:
Always thaw these parts if frozen and wash them thoroughly.
Add spices and salt if you like. Otherwise, you can use lemon juice to glaze them.
Prepare a steamer and place these parts inside. Cover the lid.
Steam with medium heat for 8 – 10 minutes.
Allow time for cooling. Serve the meat with your favorite sauce.
Frying
You may have never heard of frying lobster claws, but it's a must-try recipe. Here are some tips for this cooking method:
Prepare a deep skillet. Preheat it to 360 °F.
Add oil. Heat for 5 – 10 minutes.
Put the claws in and deep-fry them over medium heat.
Flip them over after 5 -7 minutes. Cover the skillet. Cook for 5 – 7 minutes.
If you notice them turn golden brown, turn the fire off.
Remove them from the skillet with tongs.
Place them on a plate lined with foil or a paper towel.
Allow time for cooling before enjoying. Eat them with mashed potato, chips, or rice.
How Long Does It Take To Bake Lobster Claws?
The average time to bake about 1 pound of lobster claws is about 13 minutes, but many factors affect how long it takes for your food to be entirely done.
The Claw Size
If the claws are big, you will have to spend more time baking them. The lobster claws take about 10 minutes to cook each pound.
The Temperature
It's advisable to set the oven at the proper temperature. Don't set the appliance at too high temperatures, as it can burn your food.
The Humidity
It may take longer to bake because higher humidity stops water from the meal from evaporating.
If the humidity in your oven is excessively high, this situation will occur. You can increase the temperature to speed up the cooking time.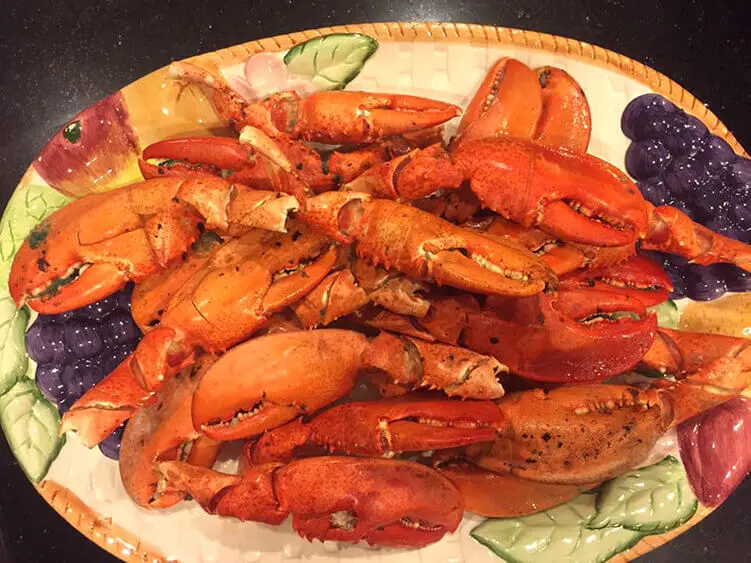 FAQs
What's The Best Way To Cook Lobster Claws?
Boiling may be the best method for cooking this dish because you don't need specialized equipment but a pot.
You can adjust the time precisely. Also, taking out the meat from the shell is much easier.
How Long Does It Take To Bake Lobster At 350°F?
If you bake the whole lobster or the tail, it may take 8 – 30 minutes to bake them in the oven, depending on the size.
Can Lobster Be Cooked In The Oven?
The short answer is yes! This way, you can retain the flavor and taste of this seafood.
Is It Better To Boil Or Bake Lobster?
It depends on your preference. If you are a novice, it's best to opt for boiling, as baking demands more concentration and skills to prevent rubbery or dry meat.
Why Put Lobster In Ice Water After Cooking?
It's one of the best ways to stop over-cooking and cool down quickly for serving. If your lobster is overcooked, you can fix it by adding butter or steaming it with boiling water.
How Long Do I Cook Lobster Claws?
It depends on your cooking method. For instances:
Boiling: 13 minutes
Grilling: about 20 minutes
Baking: about 13 minutes
Steaming: 8 – 10 minutes
Frying: 25 – 30 minutes
Wrapping Up
It's not challenging to bake lobster claws at home if you set the timer correctly to prevent dryness or burn.
Besides baking, it's excellent to boil, grill, steam, or fry this seafood. Each cooking method brings a unique and different taste you will want to try.
Hopefully, you will be successful with our guides. If you have further questions, feel free to contact us. Thanks for reading!