Freezing king crab is the best way to extend its lifespan. But here comes a problem: how to thaw king crab legs quickly and correctly?
In this post, we will share with you pro tips for defrosting frozen crab legs before cooking them. Let's read on to discover!
How To Thaw King Crab Legs Quickly?
You can thaw king crab legs by refrigerating them overnight or thawing them in cold water. Each method has pros and cons.
Method 1: Refrigerate the crab legs overnight
The rule of thumb for defrosting seafood, in general, is to avoid sudden, substantial changes in temperature.
With this thought in mind, we highly recommend putting your frozen King crab legs in the refrigerator overnight before cooking. It's the most common and safest method for thawing seafood in general.
Ideally, your frozen crab would be around 12 hours beforehand, guaranteeing a complete thaw.
Method 2: Thaw in cold water
Consider putting your king crab legs in a sealed plastic bag and soaking it in cold water if you need a faster thawing method. It will work just fine in your kitchen sink, but don't forget to put a plate on top.
The key is to use cold water. Warm or hot water will expose your seafood to too much pressure, ruining its flavor and texture.
After defrosting, you can heat your king crab legs. Make sure you have two separate steps: defrosting and cooking.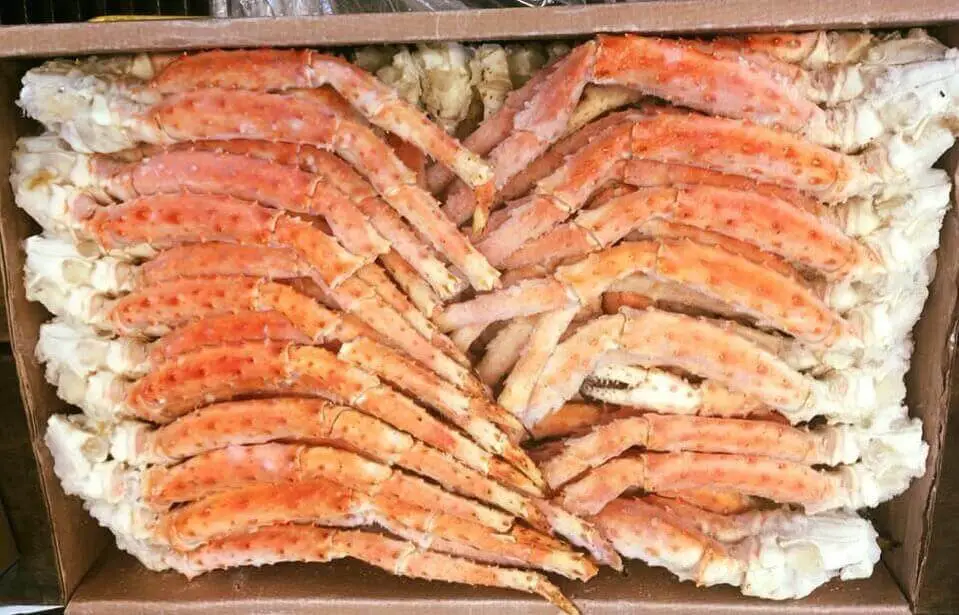 Dos And Don'ts When Thawing King Crab Legs
The two methods above are the best ways to thaw king crab legs. Although they sound simple, some people still need to correct their handling of the seafood. So take note of these pointers for the best result.
Dos
Remove frozen king crab legs from their original packaging. Then, place them with a sealed plastic bag to defrost them overnight in your refrigerator.
Plan at least one day ahead if you want to thaw seafood in the refrigerator
Don'ts
Do not leave crab legs on the counter to thaw them. Bacteria may gather and develop even at room temperature.
Do not use warm or hot water to defrost seafood. This method will stimulate harmful bacteria growth in the food and cause changes in taste and texture.
Do not put frozen seafood in the microwave. Even if the machine has a defrost mode, the sporadic heat will cause problems. The sudden temperature change will mess with the food's texture. Moreover, it may partially cook thin sections on the surface while leaving the center frozen.
Can You Cook Frozen King Crab Legs?
Yes. Instead of visiting a restaurant for a luxurious meal, you can buy frozen king crab legs from your local grocery store and cook them. That's how most people enjoy frozen seafood.
Please note that most king crab legs you buy from supermarkets or grocery stores are frozen. After catching them, people will steam or boil and freeze them to preserve their freshness, flavor, and texture.
Moreover, oils, proteins, and vitamins, such as D and A, remain in frozen crabs.
Modern freezing technologies guarantee that the freshly caught crabs can keep all of their value with proper transportation.
As a result, when we say "cooking king crab legs," we mean "reheating" them. Depending on the cooking method you choose, their flavor will differ.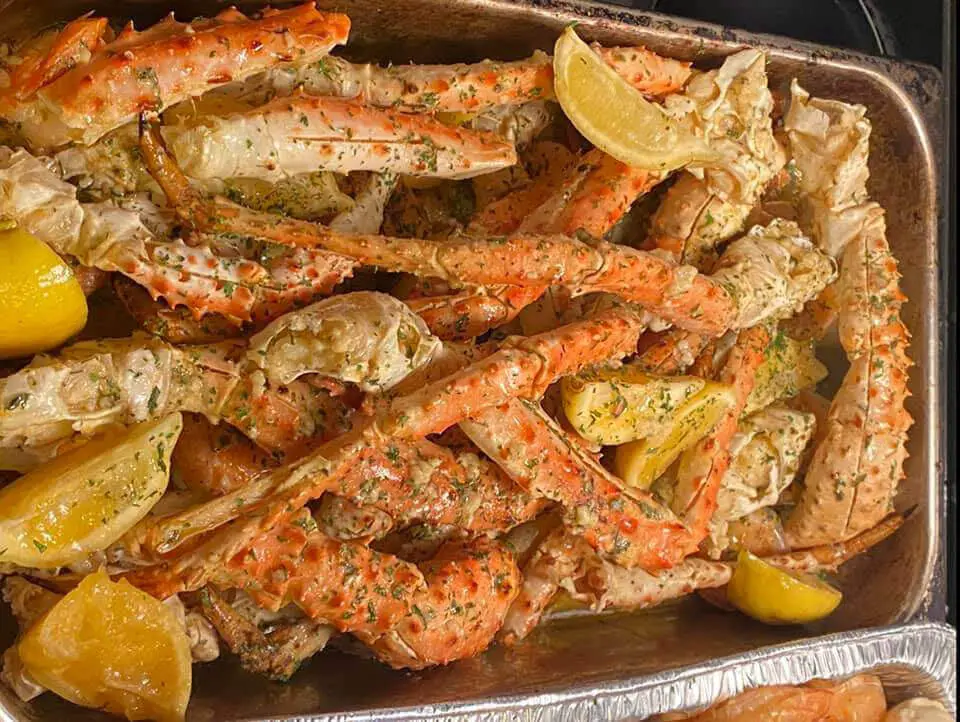 The Best Method To Cook King Crab Legs
There are multiple ways to reheat thawed king crab legs. You can choose the best way based on your preference. Your options include the following:
Boiling: Cooking seafood in boiling water is the easiest approach. It yields juicy, tender crab meat and is perfect for large servings. However, some of the flavors may escape into the hot water.
Steaming: This method is similar to the previous, but your food's flavor doesn't leak out. Hence, you will have a flavorful dish. However, you need the right basket size to fit all the crab legs.
Broiling: You can caramelize the crab legs with this method. Adding some olive oil or butter will enhance their flavor. You can also add some seasonings, but they may not break through the shell to reach the meat.
Baking: Putting crab legs in the oven has the same benefits as broiling them, but you don't have the caramelization. Moreover, it needs more time to prepare your food.
You can learn some tips for cooking defrosted king crab legs from this video:
Conclusion
The best way to thaw king crab legs is to leave them in the refrigerator overnight. To speed up the process, consider placing the seafood in cold water.
Hopefully, you will find this guide helpful. If you know any interesting tips, don't hesitate to share them with us.
Thank you for reading!