Timing is the key to preparing a delicious lobster, whether you steam or boil it.
But you may fail sometimes and accidentally cook your food for too long. How to fix overcooked lobster, and keep its delicious flavor.
Your lobster can still taste good if you follow the tips we share right here. Let's scroll down and learn how to bring out the best of your seafood!
How To Fix Overcooked Lobster
If you have burnt your lobster to a black, solid rock, there won't be any way to save it. So the first thing to do is check the meat.
Crack the lobster's shell to see the meat. If it's too hard, you can't bring it back. But if there is a little resistance, try these methods to enjoy your food.
Butter Method
Add the most butter possible to your overcooked lobster and heat in the oven for one or two minutes while wrapped with foil.
For most overcooked dishes, butter acts as a tenderizer. When wrapped in aluminum foil and heated in the oven, the heat melts the butter, rehydrating the dry meat.
You do not have to wipe the butter off your food afterward because you will remove the shell to enjoy the meat. Your lobster now becomes softer and has a greasy taste of melted butter.
Stovetop Method
You can use boiling water to soften the overcooked meat. In other words, you will steam the lobster. The instructions are as follows:
Find a steaming pot and pour water into it.
Boil the water.
Place your lobster in a steaming tray.
Insert the steaming tray into the pot.
Heat over medium heat for about ten minutes.
Take your lobster out of the pot and wait for it to cool down before serving.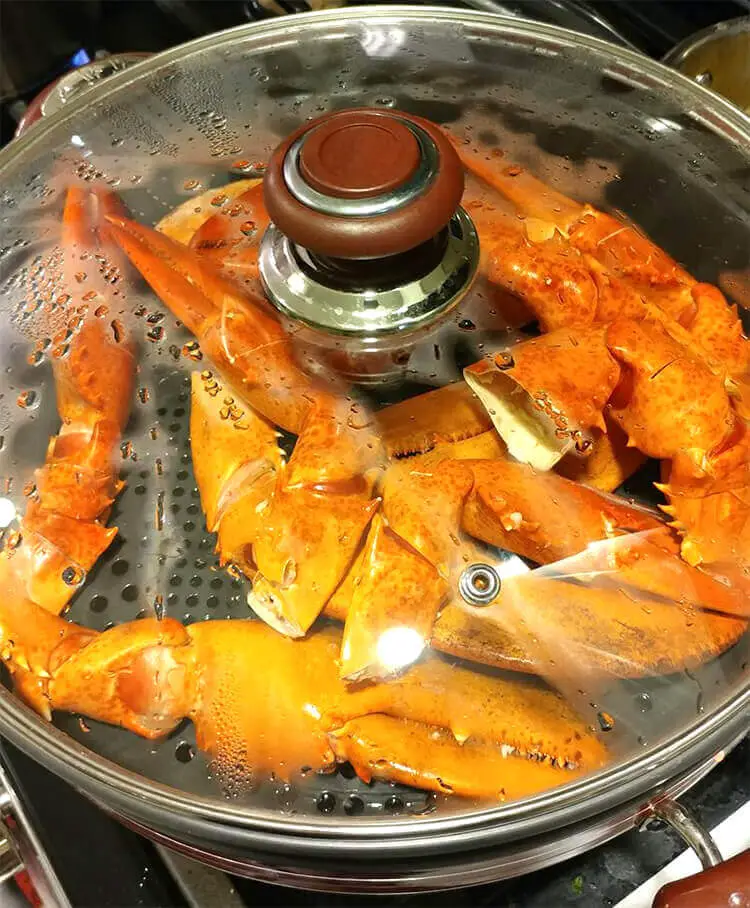 What Happens If You Overcook Lobster?
Overcooked lobsters won't cause any health problems. But you want to avoid them because of the chewy and tough meat.
Lobsters are famous for their tender and sweet meat. When cooked perfectly, you can feel the freshness in every bite.
Overcooking will ruin your experience. It's much worse when considering how much you have spent on seafood. That's why many people choose to have their fresh, expensive lobsters cooked by chefs.
How To Avoid Overcooking Lobster
Steaming and boiling are the two most common methods for cooking lobsters.
Although they won't require complicated skills, you may miss them because of the wrong timing.
Hence, this section will focus on how to avoid overcooking lobsters. Please check carefully to ensure you have the best food.
Steaming
Because steaming cooks your food more slowly and won't leave a mess behind, it gives you more control. Moreover, lobsters won't contact the bottom of the pot. Hence, you don't have to worry about it getting burned.
Use a large pot to accommodate your lobster and approximately two inches of water. Remember to put a lid on so the heat can produce steam to cook your food.
Here is how to steam your lobster correctly:
Fill a steaming pot with about two inches of water. Then add a little salt to it and boil.
Insert the steaming tray into the pot and put the lobster on it to let it steam.
Keep track of the steaming time.
Remove the lobster from the tray and wait for it about five minutes to cool down. This tip lets the meat finish its cooking with the residual heat.
Keeping track of the steaming time is a crucial part of this method. But how long do you need to steam your lobster properly? The lobster size is the key.
The bigger the lobster, the longer you have to cook it. Please check this table so you won't overcook your lobster.
| | |
| --- | --- |
| Lobster Size | Steaming Time |
| 1 pound | 7 to 9 minutes |
| 2 pounds | 11 to 12 minutes |
| 3 pounds | 12 to 14 minutes |
| 5 pounds | 22 to 24 minutes |
Boiling
Boiling offers a more intense heat. Hence, you can cook your lobster more quickly. Moreover, the heat makes removing the meat from its shell easier, but you have to take caution because there will be a higher risk of overcooking your seafood.
It would be best to boil at least four lobsters at a time. This method ensures cooking them evenly, making it a more common solution than steaming.
If you want to boil your lobster correctly, please try these steps:
Pour water into the pot until it goes over the lobsters you intend to boil by three inches.
Add salt to the water and boil it over high heat.
Add lobsters to the pot, submerging them headfirst while keeping their undersides away from you. So even if they flip their tails, the boiling water won't splash on you.
Boil the water fast after putting the lid on the pot. Time starts as the water reaches a rolling boil. While waiting for the lobsters to cook, melt butter on the side.
Take the lobsters out and set them on a plate. Wait for about five minutes for them to cool before cracking their shells.
You will learn more tips for boiling lobsters from this video:
Since you boil your lobsters over high heat, the cooking time will be much less than steaming them.
| | |
| --- | --- |
| Lobster Size | Boiling Time |
| 1 pound | 5 to 6 minutes |
| 2 pounds | 8 to 9 minutes |
| 3 pounds | 10 to 12 minutes |
| 5 pounds | 12 to 14 minutes |
Read more: How to properly preserve lobster shells
Is It Better To Overcook Or Undercook Lobster?
Undercooking is much worse. While overcooking only leads to disappointment, undercooked lobsters will cause serious health concerns.
Eating undercooked lobsters will cause a bacterial infection. The symptoms are fever, nausea, and diarrhea.
Usually, this infection's symptoms begin to develop within 24 hours after eating undercooked lobsters.
These types of bacterial infections can occasionally become fatal. Pregnant women and others with weak immune systems are particularly vulnerable.
You might also get infected with a parasite. Tapeworms and roundworms are the two most prevalent forms of undercooked seafood.
These infections can lead to a variety of health issues, such as nutritional deficiencies and weight loss. The symptoms are numerous, including:
Anal itching
Anemia
Diarrhea
Fatigue
Constipation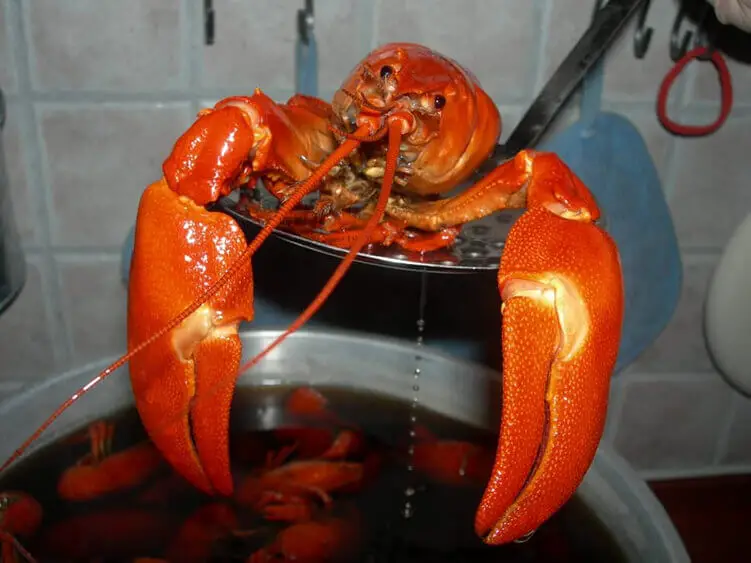 Frequently Asked Questions
Is An Overcooked Lobster Edible?
Yes. Overcooked lobsters have a tough and chewy texture. They lose almost all of the freshness, but they are still edible.
Why Did My Lobster Turn Out Mushy?
Many chefs think that the repeated cycles of freezing, defrosting, as well as refreezing, are the leading causes of the soft texture of meat.
An explanation is the lobster's death caused it to emit enzymes that initiated the decomposition process before cooking.
How To Cook Lobster So Soft
It's about how long it takes to cook lobsters. Please note that overcooked meat will be very tough. Hence, you need to keep track of the cooking time no matter which method you choose to prepare the lobsters.
Should You Steam Or Boil Lobsters?
It depends on your requirements. Steaming is forgiving because you won't overcook your lobsters easily.
Meanwhile, boiling achieves lobster perfection if the timing is accurate. However, there will be a higher chance of overcooking meat.
Conclusion
How to fix overcooked lobster: Simply add butter or steam with boiling water. The rule of thumb here is to soften the meat.
Of course, it's better not to overcook your food. Please follow the two methods we have shared to have the tastiest lobsters.
Do you have any other questions about cooking lobsters? Don't hesitate to contact us. We are so happy to help you get better with your kitchen skills.
Thank you for reading!