Oyster seed is a valuable and meaningful natural resource for the coastal ecosystem. It has been beneficial in practical biological research for decades.
With that in mind, you may wonder: "Where do oyster seeds come from?" Or "how to harvest this type of oyster?" The article will help you answer these questions.
You will also find some exciting tips regarding counting and selecting seed oysters. So, don't miss any helpful information in this article!
Where Do Oyster Seeds Come From?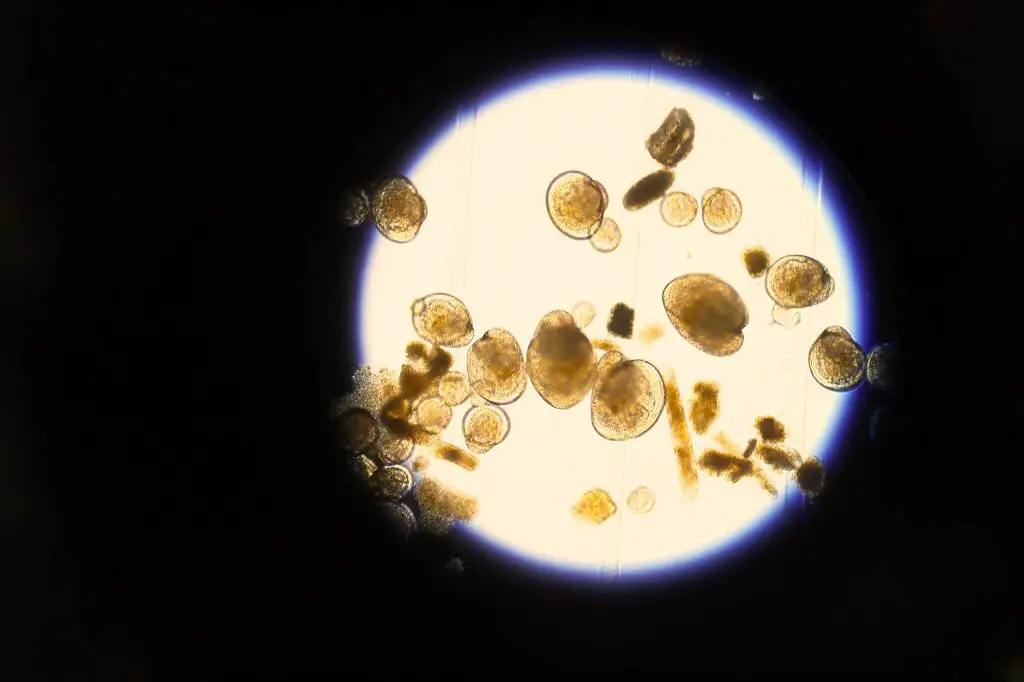 Oysters are from eggs and sperm from the parents. When the eggs are successfully fertilized, microscopic oyster larvae will develop.
Oyster larvae use swimming discs to navigate the water. After about 24 hours, oyster larvae find media such as mollusk shells, rocks, and seaweed. They then stop moving, cling to these substrates, and become oyster seeds.
Oyster breeders can shorten this time by adding microalgae, finely ground shells, and bodies such as bamboo and rocks.
The breeders are pretty small in size, only from 2-35 mm. Their food is mainly plankton, algae, and larvae to grow.
Oyster farmers are always on the hunt for good specimens. They will choose to buy in bulk, raise oysters using specific methods, and harvest at certain times.
Researchers and environmentalists also regularly contact and raise oysters. Their primary purpose is to restore natural ecosystems and carry out crucial marine life research.
How To Collect Oyster Seeds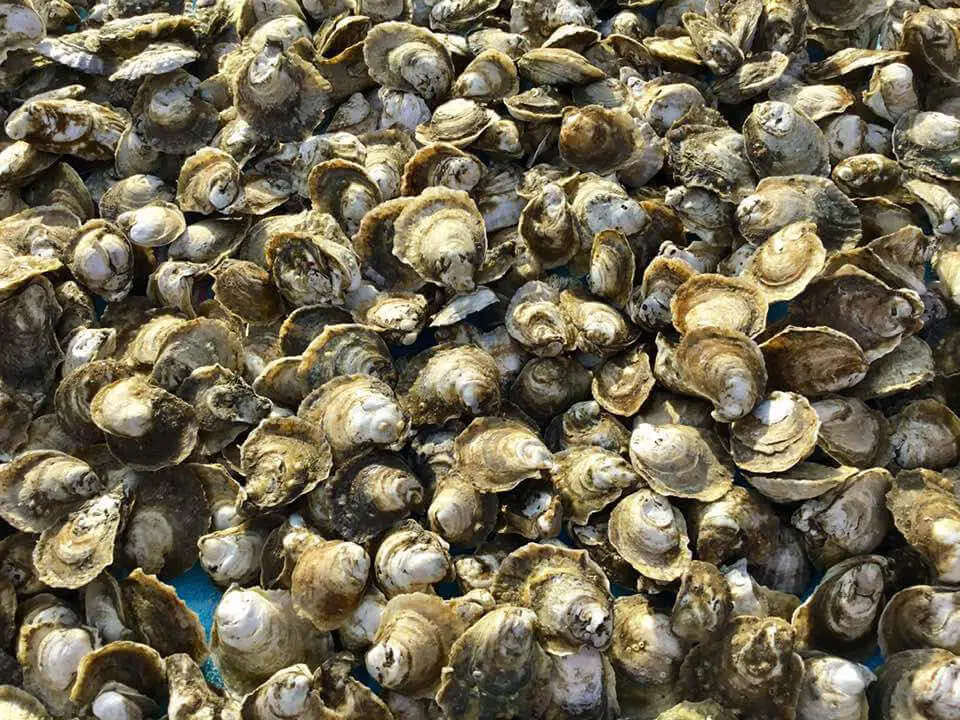 In the past, when the oyster seed was not yet mass-produced, people could only collect traditional oysters manually in small quantities.
After centuries of advanced biological technology, oyster harvesters have quite a few methods to consider:
Traditional Methods
People often scatter oyster shells, wood, and rocks into the sea for traditional oyster seed collection.
Trap placement should be in the intertidal zone. This location often gathers much plankton to provide an abundant food source for oysters.
Also, placing the rack in the intertidal zone also effectively prevents fouling. Oyster larvae will quickly find these and cling to them for the rest of their lives.
After 5-6 months, depending on the type and environment, oyster farmers can check the adult size and harvest.
In addition to using racks, oyster sticks are also an effective way for experts to collect seed oysters. Yet, this method is not recommended because it leaves oysters vulnerable to predators in the wild.
Modern Methods
Professional oyster farms often run modern oyster hatchery collection systems.
The most common method is to use oyster caps, grafts, and drainage pipes. Oyster farmers also adopt raft farming to make harvesting easier.
Single seed collection with scallop shell powder is also quite effective and productive. Breeders must prepare a plankton net tray and spread scallop shell powder to apply this method.
After penetrating the larva's eye point and ability to move, the breeder will drop the prepared net tray into the aquarium. The larvae will stick to the tray permanently, which is very convenient for harvesting.
Instead of oyster powder, you can also string up racks like oyster shells and scallops and put them in the tank.
This method can collect seeds more quickly and conveniently with budget savings. With it, you can separate the instance at any time soon.
How To Count Oyster Seeds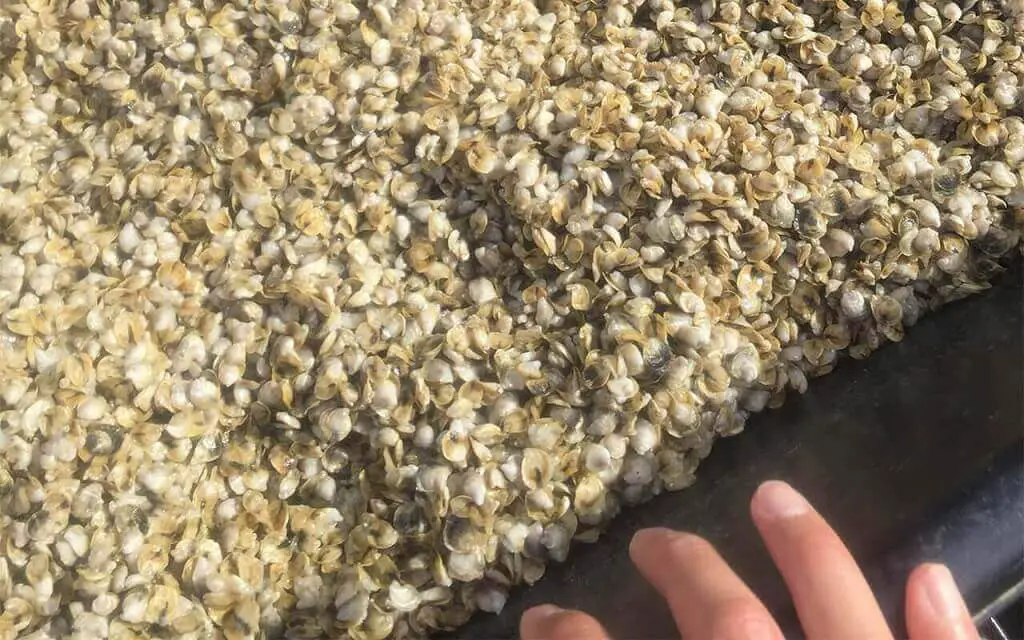 To count oysters effectively, prepare two scales, a small flat plate, a spoon, a counting aid probe, and a sieve. For rankings, you'd better prepare a kit with a low-margin error, about 0.01g refill.
Once you have the necessary tools, practice counting oysters by following the steps below:
Weigh each sieve and pan.
Place oysters in a sieve and subtract the sieve weight.
Use a spoon to collect 3 to 4 samples from the sieve. These samples should contain 150-200 oysters.
Then place them on the pan and determine the mass. Don't forget to weigh the pan for the most accurate results.
Next, count oysters with a probe. You should add a little water to make it easier to move the oysters.
To avoid confusion, you should create a straight line at the bottom of the plate and spread the oysters around the outer container edge. You need to move the counted oysters over the line to avoid confusion.
Calculate the average number of oysters in 3 – 4 samples. Then, multiply this average by the total particle mass you calculated earlier. You can use the data obtained to calculate the total mass and quantity of the sieves.
What Do You Use Oyster Seeds For?
Oyster seed is helpful in research, rehabilitation, and population building for marine life. They can purify water and promote the growth of aquatic herbs.
As a result, it can improve the habitat for other organisms. The oyster seed is also available for food and pearl production from oyster farms.
Since it is one of the filter feeders, it usually cleans the water in the seas it passes through. It is an ideal habitat to promote the water grasses such as wild celery and other species.
Its furrows provide a massive structure for many parasitic and aquatic species to thrive, such as small crabs and fish, to hide.
Where Can You Get Oyster Seeds?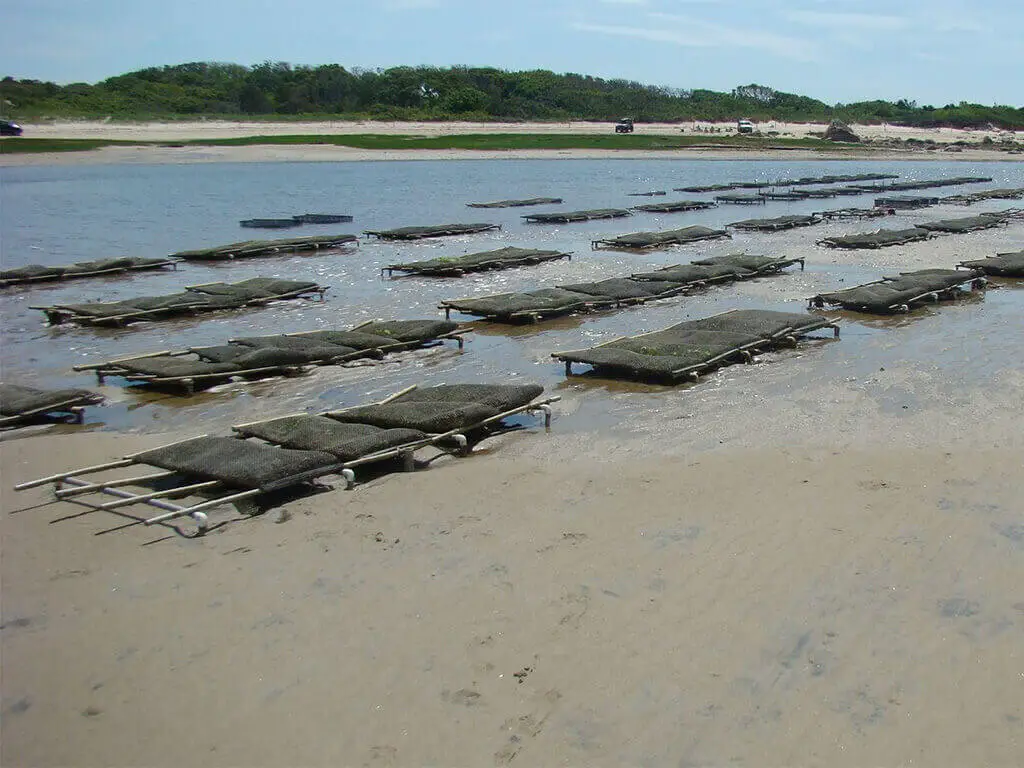 You can find oyster seeds in shops and farms specializing in oyster products.
Yet, to get quality oyster seed with good growth, you will have to consider your supplier carefully.
With oysters raised in nurseries or from sea lots, you should choose to buy in February, March, or October.
This period coincides with the oyster spawning season in the wild. You will have the opportunity to find prominent, healthy, beautiful individuals.
You can also look for oysters like the "tail of the lot." They grow slowly but have a reasonably high meat content. This breed is suitable for oyster farms for meat.
Conclusion
So where do oyster seeds come from? Sperm and eggs from broodstock will produce oyster seeds. They will take about two weeks to fully mature on racks.
Hopefully, the sharing in the article has answered your questions and concerns.
If you have further questions, don't hesitate to comment. We are here to help you select oysters, care for them, and harvest them successfully.
Don't forget to share this article with your friends and relatives.
Thank you for reading!